What's on this page:
Birkbeck home from Munsell's 1880 history
Pages from city directories
1873 and 1896 maps of the area
On related pages:
---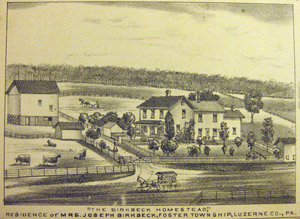 On most of the other pages in this section on nearby towns, there are at least a few postcard or photographic images to show what some part of the town looked like. Not so for South Heberton; at present, this is the only image that I have from its earliest days. Here is a lithograph of the Birkbeck homestead from Munsell's 1880 history. It's one of our earliest views of the beginnings of what would become Freeland. Joseph Birkbeck and his wife Elizabeth came to Freeland in 1844 from England. By the time of Munsell's history, Elizabeth was a widow and the captions identifies this homestead as the residence of Mrs. Joseph Birkbeck.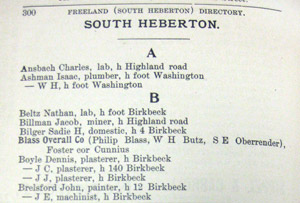 Aside from that image of the Birkbeck homestead, at present I have no other images of this community from before it was annexed to Freeland, nor do I have images of it in the early years of its being part of Freeland. So for now, here are a couple of pages from city directories, and a couple of early maps. The 1896 Hazleton city directory included 5 pages of South Heberton residential listings, half of the first page shown at left. This and the one noted below are held by the Greater Hazleton Historical Society Museum.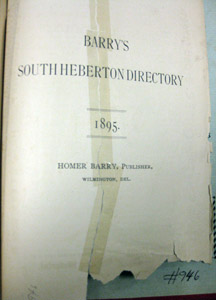 The copy of the 1898 Hazleton city directory that I saw also had South Heberton listings, but all but the first page of them had been ripped out of the directory long before I ever got to see it. Shown here is all that's left; the other side of this page is the first page of the South Heberton residential listings. Doesn't it make you wish that we still had the other pages? I try not to let this sort of thing drive me crazy, but I do wonder if there is another copy of this 1898 directory out there somewhere.





Here's a crop from the map of Foster Township that was included in the 1873 atlas of Luzerne County. You can see the Butler Township line along the left of this image, and abbreviated map depictions of Upper Lehigh, South Heberton, Freeland and Highland. These 1873 maps are great; they show roads, railroad tracks, creeks and rivers, at least some of the buildings, names of major property owners and businesses, and I'm thinking that those little fanned out clusters of lines designate hills. There's a lot of information packed into these few inches of map!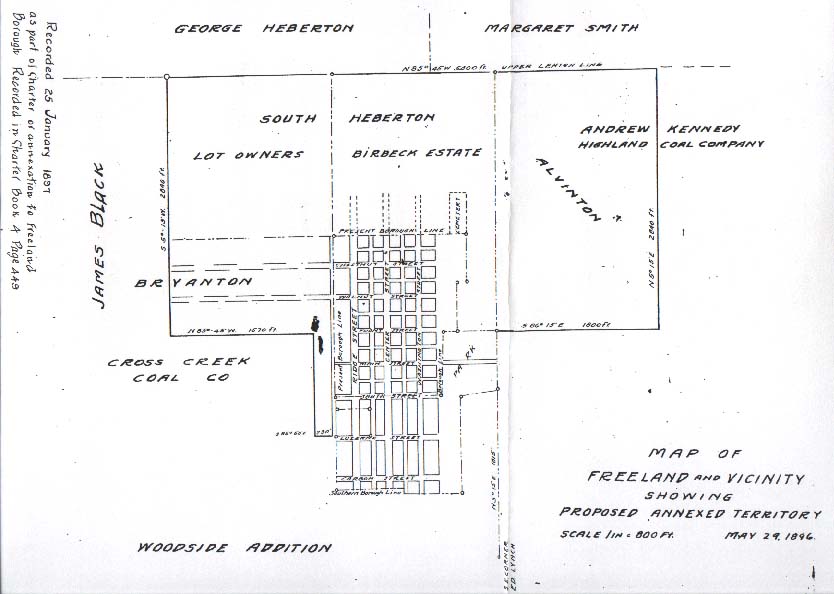 And here's another map containing a wealth of information despite seemingly little actual detail. This map was one of my early finds that pulled me into researching Freeland's history. It deserves its own web page and I'll make one at some point, but for now I include it here to show how Birvanton (not Bryanton as the map says), South Heberton and Alvinton all got added to Freeland. Along with the Woodside Addition on the south, these annexations gave Freeland the general outline that it has today.