What's on this page:
Images

20th-century music stores and other businesses

Music stores and other businesses in directories, maps and newspapers
People who gave music lessons
Bands and orchestras

On related pages:
---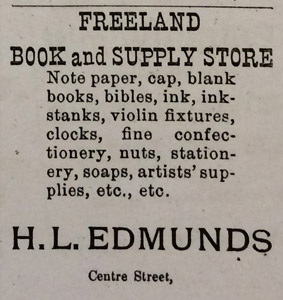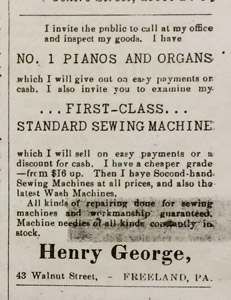 Top left corner: Mayberry's Music Store record duster.

Above, left to right: Several businesses were not "music businesses", but they carried some music-related merchandise. For example, Edmunds' Book and Supply Store ad, 1894, included "violin fixtures"; Henry George sold pianos and organs as well as sewing machines (later switching to groceries), 1894 ad (both 1894 ads came from Carol Jones); Butterwick ad from 1896 directory showed that in addition to jewelry, watches, clocks and silver he sold optical and musical goods.


---



20th-century music stores and other music businesses





Joe Bradish's Music Box Service

- South Street, previously White Haven road - Pinball machines, Jukeboxes (From Ed Merrick: The ad in the MMI Minamek lists: Bradish Sales Co., Phone 109, Freeland. They lived on South Street next to the Chatterbox and ran the business from that place. They dealt in pinball machines (I would guess leasing, selling, and repairing) and probably also handled jukeboxes, although I am speculating on that item. I don't know in which category they would be listed. My Dad bought a decrepit pinball machine from them, and Tom and I had fun with it in our garage until it disintegrated.) (From C. Tancin: He also had the jukebox circuit in the area, and sometimes he would pay my dad for tires with stacks of records that were replaced in jukeboxes with newer ones. My dad would pick out the stuff he liked (e.g., Perry Como, Patti Page, Rosemary Clooney, etc.) and then would let me choose from what was left (Elvis, Bobby Rydell, Smokey Robinson and the Miracles, The Shirelles, Chubby Checker, etc.). That's how my record collection got started when I was in grade school. Later I bought my records at Stunz's and Newberry's.)



S. Finn

- 711 Main Street, Freeland. Miller's old stand. Dealers in jewelry, musical instruments and religious articles. Grafonolas and records of all languages. (Source: Catholic Reference Book and Parish Register, circa 1924) [Ed and I have emailed about this, and we assume that Miller's Old Stand refers to Oliver Miller]








Bronson & Mayberry - 725 Centre St. - (continuation of the Mayberry business with a new business partner, apparently) - "A music store which renders real service" - Player piano rolls, Harmony records, popular sheet music, musical instruments, radios, Victrolas; the new Orthophonic Victrola (from Ed Merrick, 1926 ad, reproduced in 3 pieces here) - another 1926 ad at left comes from Darlene Miller; headed "Shop in Freeland", it notes that it's the oldest music house in Freeland (originally Mayberry's, see below) and that they are "Musicians who sell Music."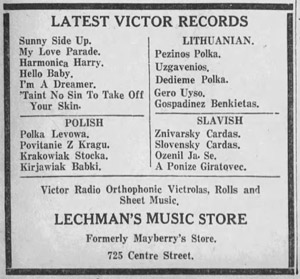 Lechman's Music Store

- 725 Centre St. - Victor Radio Orthophonic Victrolas, rolls and sheet music - formerly Mayberry's Store - In 1930 was selling Victor records in Lithuanian, Polish and Slavish, according to this ad. (from Ed Merrick, 1930 ad)
- George Lechman, pianist at the Timony Theatre on South St., received a birthday gift from his mother and other family members of a new baby grand Behning piano, purchased at the Mayberry music store (1925 newspaper notice)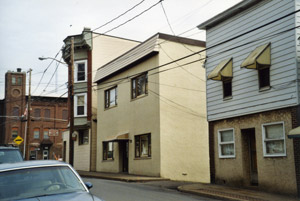 Mayberry Music Store

- 725 Centre Street (Ario Mayberry, proprietor) - Behning pianos, genuine Victor Victrolas. (Source: Catholic Reference Book and Parish Register, circa 1924, Ed Merrick) - Ario Mayberry was a musician and band music instructor. At left is an ad from the page margins of the 1921-1922 Freeland city directory, and next to it is a photo taken by Charlie Gallagher showing the top of the old Mayberry building, later the American Legion. Bob Zimmerman remembers a pediment on the very top of the building, now gone, that said Mayberry. In the photo of buildings here, the leftmost of the 3 was Mayberry's, the others housing Lina Lloyd's Millinery and Jonas Steward's photography studio.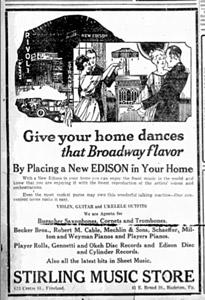 Stirling's Music Store

- 623 Centre St., a branch of the Hazleton store at 41 E. Broad St. (Charles Wenner, manager) (ads seen, from 1924 into mid-1930s)



Stunz Music Store / Stunz Music Studio

- 827 Centre St. (John H. Stunz, proprietor) - musical instruments, sheet music, records, record players, TVs, radios - also refrigerators, washing machines and other electrical appliances - In 1923, he was selling Strich & Zeidler pianos (from Charlie Stumpf, 1923 ad) - In 1969, Mr. Stunz received an award from the Shelborne Corp., distributor of RCA products, for being one of the two oldest RCA dealers in the nation. Mr. Stunz was described as a veteran television, radio and appliance dealer. He also sold musical instruments, records and sheet music. (from Charlie Stumpf, 1969 article)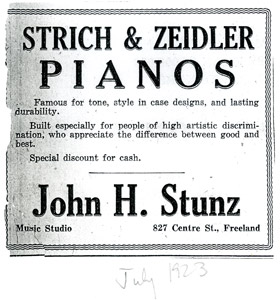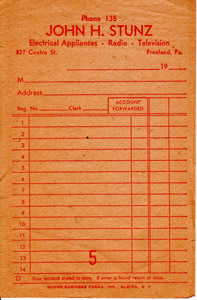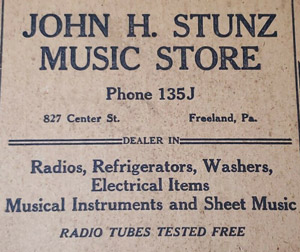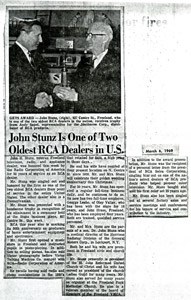 John H. Stunz opened his music business in 1920, and in 1969 was honored by RCA as one of the two oldest RCA businesses in the country. Images left to right: 1923 ad from Charlie Stumpf; Stunz store receipt from Freeland Historical Society; another Stunz ad showing that he also sold radios, refrigerators, washers and other electrical items, as well as musical instruments and sheet music. He also sold records; I bought many 45s and some sheet music from him when I was in high school. The 1969 newspaper article also came from Charlie Stumpf.


---



Music stores in directories and newspapers



1895 directory
George, Henry - pianos and organs, 43 Walnut

1900-1901 directory
Butterwick, W. L., jeweler, musical instruments, cor. Front and Centre

1912 telephone directory
Mayberry A P, Music Store – Centre

1917 telephone directory
Mayberry, A. P., Music Store - 725 Centre

1921-1922 directory
Mayberry's – music store, including Victrolas and records, 725 Centre

1928-1929 directory
Mayberry, Harry L., musical instruments, 725 Centre
Stirling's Music Store, musical instruments, 623 Centre
Stuntz, John H., musical instruments, 827 Centre

1940 directory
Gabriel, Ralph L. - radios and supplies, 447 Centre
Sweeney, Jas. T. - radios and supplies, 607 Centre
Stunz, Jno. H. - music store, 827 Centre
Wittich's - music store, 144 W. Broad, Hazleton, Pa.


---

Music teachers listed in directories

1895
White, Lida - music teacher, east Main

1897
Geoppert, Annie - 13 W Walnut
Lewis, Mattie - W Walnut
Mayberry, Prof. A. P. - 87 N Washington
Watson, Prof. T. J. - 79 Johnson

1921-1922
Oswald, Victor A. – music teacher, 722 Centre
Sweeney, Anna C. – music teacher, 516 Vine

1928-1929
Griffith, Cora E., music teacher, 519 Front
Stuntz, John H., music teacher, 827 Centre

1940
Zadra, Elizth. D. - music teacher, 401 Centre

[20th century]
Michael Robin - violin instruction, 610 Vine Street


---



Bands and orchestras



1895 directory
De Pierro's Orchestra, S. DePierro bandleader - headquarters Centre corner Front

1921-1922 directory listed these bands:
St. Ann's, St. Mary's, Mayberry's, St. John's, St. Casimir's

1928-1929 directory
St. Ann's Band, 426 Ridge

1920s
Salvatore Capece - played with a leading orchestra in Washington, D.C. (1926 newspaper notice); WWI veteran, naval engineer, and musician who played nationally and regionally during the Vaudeville period (from Charlie Gallagher, 1964 obituary)

mid-1930s
Eddie Gabuzda Orchestra / Eddy Downing Orchestra, Eddie Gabuzda bandleader

And, on a related theme, this from Pete Horne, whose father owned Horn's Appliance on Centre St.: Dad had a brother, Arthur "Art" Horne who was also a citizen of Freeland for a time. Both dad and Art were into the interest of radio repair from the late '20s. My grandfather was James Horne, a coal miner living in Jeddo. Dad was quite well known in Freeland to the folks of the '40s and '50s. He made TV repair house calls. My mother would tell me stories about how dad would hold DJ'd dances at some time during WWII using 78 rpm records in the pavilion in the public park on Front Street just down from the YMCA. Alas, no photos of the time were made by them. Perhaps some may exist among the treasures of those who came to the dances. For more about Horn's Appliance, see the Decor, furniture and appliances page.