What's on this page:
Gallagher - Brogan reunions

On related pages:
---


First there was a huge family reunion in 1935 that brought members of these families together from several states. It got a lot of press in the local papers.



"Family in First Annual Reunion: Three hundred at Gathering of Gallaghers and Brogans at Evergreen Park," from the Hazleton Plain Speaker, August 19, 1935







Plans for the reunion, from The Plain Speaker - (PDF file size = 505 KB)


1935 Gallagher - Brogan family reunion with some of the names provided - (PDF file size = 816 KB)


Photograph of the Gallagher-Brogan Reunion of 1935, and the same photo as a PDF with names of those who have been identified. Edward and Peter Gallagher are in this photo.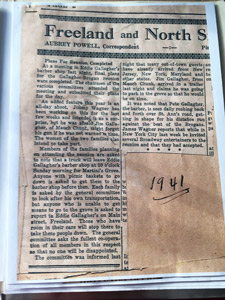 The reunion in 1935 was so successful that another one was held in 1941. Here is Aubrey Powell's reporting in one of the Hazleton papers' "Freeland and North Side News."