This information and these photos come to us from Joan Killian Gallagher, Mary Rosenkranz and Ed Bacon,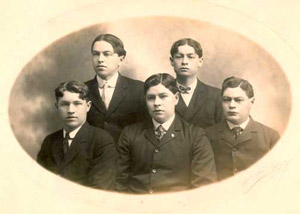 all descendents of Peter Gallagher (1834-1887) and Catherine "Kitty" (Burns) Gallagher (1852-1906). Peter immigrated from Ardara, County Donegal, Ireland and worked as a coal miner. The 1880 U.S. Census lists them in Buck Mountain along with four sons, all born in Buck Mountain; a fifth son was born there the next year. Sometime in the next few years they moved to Freeland, where their youngest child was born in 1886; the father Peter died the next year. His widow Catherine and the family were living on Adams Street at the time of the 1900 U.S. Census. Five of the sons can be seen in this portrait at right that also appears on the page about Edward Gallagher's barbershops and there is more information about it there. The sixth son, Patrick, was the eldest and he was already living out West when the photo was taken. Mary Rosenkranz thinks the photo might have been taken between 1900 and 1910.

According to the brief biography linked below, Patrick struck out for the West around age 22 in the summer of 1898. He first worked in harvest fields and then at a cattle ranch owned by his uncle, Frank Gallagher. He then worked in several mines, attended business college, and after several more years' mining experience he served as president of the Western Federation of Miners. Here are two photos of him taken in Reno during this period.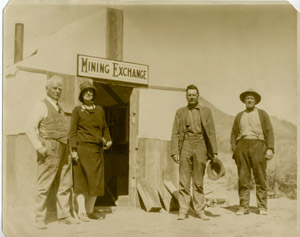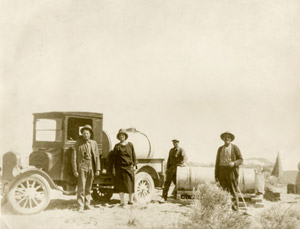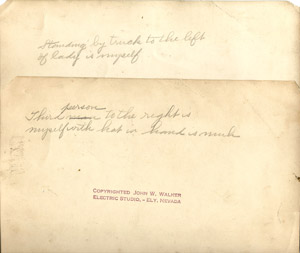 Short biography of Patrick Joseph Gallagher, in: Nevada: A Narrative of the Conquest of a Frontier Land (vol. 3, 1935)

Patrick J. Gallagher biographical description - (PDF file size = 2.4 MB)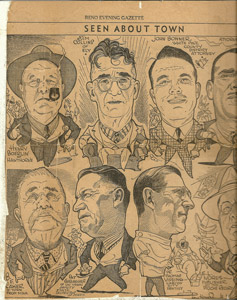 Later Patrick served for two years as a justice of the peace, four years as a notary public, president of the Round Mountain Athletic Club, and district mining recorder. He was later in real estate and insurance, did some prospecting, and was appointed deputy United States marshal for Southern Nevada. The caricature from the Reno newspaper labeled him as Deputy State Inspector of Mines.

The portrait and brief biography were sent to Mary by her cousin Joan Killian Gallagher, granddaughter of Thomas Francis Gallagher, Sr., and additional photos came from Mary and her brother Ed.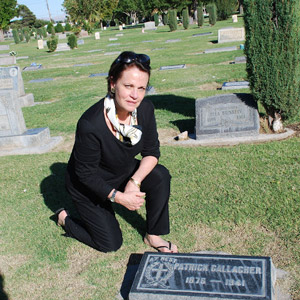 Joan traveled to Las Vegas in 2011, 70 years after his death. Since he had no children, she was the first relative to visit the grave site. She also took the opportunity to do some research on him, since he lived most of his life in that area. Thanks to Joan, and also to Mary and Ed, for sharing these notes and photos about Patrick's interesting life out West.