The maps shown on this page (click on them for larger views) are

Sanborn Fire Insurance Maps, published in 1895. They show every building within the town limits. My deep thanks go to the friend who helped me to acquire these maps.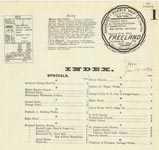 The image at left is the map legend, giving the title of the map, some descriptive information, and an index of certain buildings that are labeled on the map. As you'll see, the focus is on vulnerability to and protection from fire, so there is information on the legend about Freeland's water facilities and fire department, and as shown in the illustration key there is also information given about what the various buildings were constructed of, suggesting how flammable they would be or how well they might withstand a fire.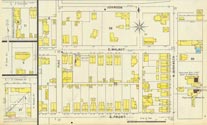 The map is in three sections. The first section shows the northeast corner of the town at the time. Because this map was made before South Heberton was annexed to Freeland, the northeast corner was the area between Johnson and Front streets, bounded on the east by Birkbeck street and on the west by Pine street and another half block past that. A few additional details are tacked onto this map, showing several buildings that are outside the bounds of the 1895 map sheets: the Washburn and Turnbach Carriage Works, St. Mary's Church, and the Freeland Lumber Company.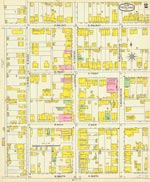 The second section shows the main section of town above South street, from a half block east of Washington street to a half block west of Ridge street. Most of the business district is shown on this map. Businesses are labeled by type, such as "D.G." for dry goods, "Confec." for confectionary, "Gro." for grocery, "Sal." for saloon, and so on. In a few cases, buildings are actually labeled by name, such as "Hunsicker Livery," "Freeland Opera Ho.," "Presb'n. Church." Some, but not all, of those are also listed in the index on the map legend. Notice the variation in the sizes of lots, and how most properties also contain small outbuildings. Buildings that were unoccupied when the map was made are labeled "Vac." for vacant. Note that the Cottage Hotel was already built in 1895.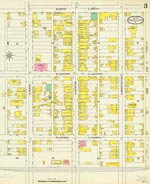 The third map section is a continuation of section 2, showing the main area of town below South street. The town is bounded on the south by the railroad tracks. Note the second opera house at Ridge and Luzerne streets, which later became a silk mill and now is an apartment building. Just next to that is one of the public schools, a building now owned by the Belekanich family. Diagonally across the street is the original site of St. John's Nepomucene Roman Catholic Church, with St. Casimir's (mislabeled St. Cosmus) just down the street. Two blocks to the east is St. Peter and Paul's Slovak Lutheran Church. The train station and freight depot are on Centre street below Carbon.