[Images from C. Tancin unless otherwise credited.]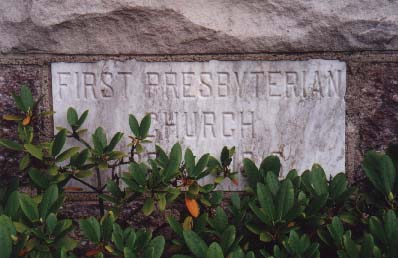 Presbyterian Church of Freeland - formerly Union Presbyterian Church, stands at 607 Front Street. This partial view of the cornerstone was photographed a few years ago when there was a lovely shrub in front of it, so the photo shows the name but not the dates on the cornerstone, 1894-1916.


In May 1894 contracter A. K. Burger (or Berger) moved the Eckley Presbyterian church to a new location in Freeland. The pulpit, seats and lighting fixtures were stored in Williamson's stable and were destroyed by fire the following month. The cornerstone was laid on June 21, 1894 (from Charles Stumpf's notes). This postcard view and the one at top left (same photo, colored differently) show the church around that time at its new Front Street location. The photo at left appears courtesy of Bob Zimmerman.




A Brief History of the Freeland Presbyterian Church

(from the church's 50th anniversary booklet in 1944)

Presbyterianism in Freeland grew from the shifting of Presbyterian families from the nearby vicinities of Eckley, Upper Lehigh and Sandy Run, all of which are older communities than Freeland, and in which churches had earlier been established. The Eckley Church was founded 1861, the Upper Lehigh Church in 1868, and the Sandy Run Church in 1886.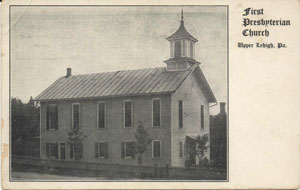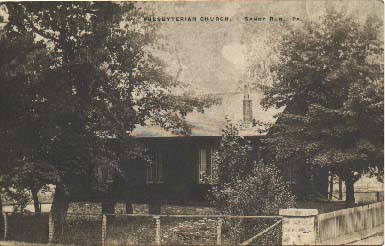 As Freeland grew these outlying communities declined, and in turn, their Presbyterians moved to Freeland. The first move was from Eckley and in 1894 the Eckley Church building was moved to Freeland, and erected upon the present site. Later in 1916, during the pastorate of Rev. Howard J. Bell, the Church was remodeled and the manse was built. Then in 1918 the Upper Lehigh congregation agreed to become a part of the Union Presbyterian Church of Freeland, though still holding services in the Upper Lehigh Church. Later the Church building at Upper Lehigh was sold and the membership of the Church transferred to Freeland. In like manner the Sandy Run Church carried on in their building until it was decided that they too would abandon the use of their Church as a preaching place and they too came to Freeland. Photo of Sandy Run Presbyterian Church appears courtesy of John Zubach.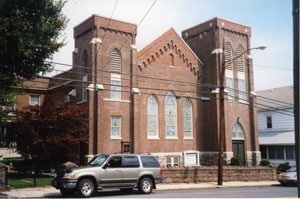 In 1929 the name Union Presbyterian Church was changed to the Presbyterian Church of Freeland. A Sunday School was continued in the Sandy Run Church and one preaching service per month until 1942, when it was decided to discontinue services in the Sandy Run Church. The Church building was in bad repair and it seemed best to sell the building. This was done last year. The furniture was brought to the Freeland Church, as weas the bell which has been hung in our belfry and is to be dedicated as part of this Fiftieth Anniversary Celebration. The bell had been presented to the Sandy Run Church by Mrs. Anna Kemmerer in 1884, thus had called folks to worship at Sandy Run for 50 years, and it is appropriate that it should be dedicated again to begin another half century of service for us as we begin our second fifty years in this Church. The old bell which was taken from the Church tower will be mounted and kept as a sacred memento in the Church. Postcard image at left appears courtesy of Captain Clint.

Pastors who have served the Freeland Presbyterian Church (this information comes from the 50th anniversary booklet and a Standard Spearker article from 1995, and is the most recent information that I have at present):
Rev. J. W. Bischoff, April 1893 to August 1903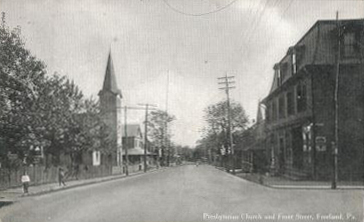 Rev. John F. Nicholas, September 1903 to July 1910
Rev. William Usher, January 1911 to January 1914
Rev. Howard Bell, October 1915 to March 1918
Rev. Edwin R. Worrell, July 1919 to January 1930
Rev. T. Arthur Patterson, September 1930 to 1952
Rev. William Spangler, 1955-1957
Rev. Edward Breitback, 1958-1962
Rev. Thomas Francis, 1962-1969
Rev. Neal EArly, 1972-1976
Rev. Elizabeth Beck, 1973-1977
Rev. Steven Weightman, 1974-1977
Rev. Thomas MacAdam, 1981-1994
Rev. Eleanor Allen, 1994-?

These additional notes come from a Standard Speaker newspaper article from 1995: The building was dedicated in 1894 in Freeland and the church was incorporated on September 7, 1896. The church was rededicated on Easter Sunday 1917. In 1936 it was redecorated, and structural improvements were made in 1947. In 1952 a new heating plant was installed, and the next year the manse was redecorated, the sanctuary completely redecorated, and the organ rebuilt. The church was rededicated on September 22, 1953. (Also from Charles Stumpf's notes: while the church was being remodeled in 1916, services were held in the Mayberry Bank building, with pastor Edward J. Bell presiding)