This set of photos comes to us from Eleanor Boyle Duckett. The caption information below comes from her as well. The text is written by Eleanor, aside from any notes from me which are given [in brackets]. Eleanore wrote:

My great-grandfather, Daniel "Doni" Boyle (1861? Keadue, Co. Donegal - 1923 Drifton), and my great-grandmother, Bridget O'Donnell (1855? Co. Donegal - 1917 Drifton), were married by Father Fallihee on January 31, 1878 at St. Ann's Church in Freeland. While both of my great-grandparents came from County Donegal, they did not meet until they came to this country.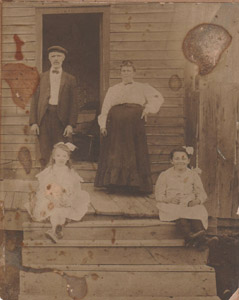 Daniel and Bridget O'Donnell Boyle (in picture) had 12 children, but only 5 lived to adulthood - Joseph "Buff" Boyle (baseball player), Daniel Boyle (my grandfather), and their sisters Bridget, Hannah, and Mary "Mamie" Boyle. Mamie was the fifth girl in her family and was born a year after two of her sisters died a week apart in 1897 (ages 3 & 7). Her surviving sisters (Bridget & Hannah) were 12 and 10 years older than her.

This picture of my great-grandparents (not great-great) was taken in Drifton, where my great-grandfather was a miner. I believe my father talked about Drifton #2. My grandfather and his siblings, my father, and, I believe, aunts and uncles were all born and lived in Drifton, although they all attended mass at St. Ann's and attended schools in Freeland. I believe they all moved to Freeland sometime later than 1931. I believe my Uncle Gerald (youngest) attended MMI, while my father and other siblings attended Freeland High School.


According to family lore, my great-grandfather, Daniel, was the only member of his family to come to America from Keadue, County Donegal, Ireland. His son (my grandfather), Daniel, was the only member of his family to have children and all 5 of them (Eleanor, James, Ruth, Donald, Gerald) moved to other parts of the country, so we are not related to any other Boyle family in Freeland (although my brother, Daniel, did move back to the area and was buried in 2015 at St. Ann's cemetery with other family members).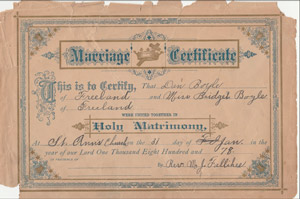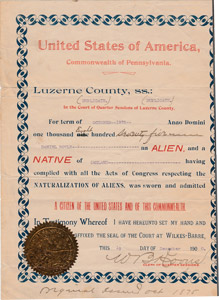 Here are a scan of my great-grandparents' marriage certificate (left) and a scan of a 1900 copy of my great-grandfather's 1875 Naturalization Certificate (right) that my great-grandfather needed in order to get a passport to go back to Ireland to visit relatives.

If you look at the marriage certificate carefully, you'll see that Father Fallihee wrote the name Miss Bridget Boyle instead of Bridget O'Donnell and had to cross out Feb. to write Jan. According to family lore, Father Fallihee filled out the paperwork after enjoying the "spirits and festivities" of the day!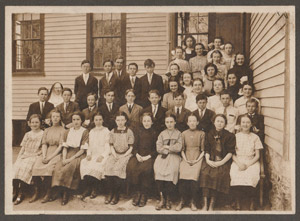 The back of this photo says "St. Ann's Class of 1912". I was always told that my great-aunt was in this picture. If it was taken in 1912, then it may have been my great-aunt Mary "Mamie" Boyle (13 or 14 years old in 1912). Mamie Boyle later became a school teacher in the Freeland area.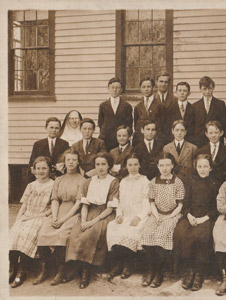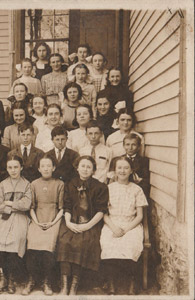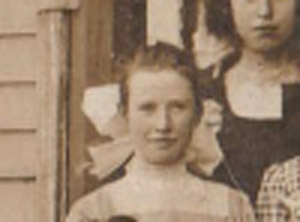 [Note from C. Tancin: Here are enlarged views of the class picture, and also the face of the student that seems to me to most resemble the older photo of Mamie Boyle shown below. We don't know if that IS Mamie Boyle, but at present it is my and Eleanor's best guess.]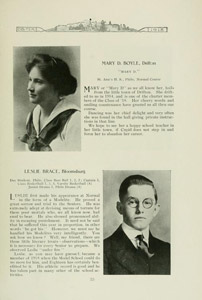 I've been looking for photos of a younger Mary "Mamie" Boyle to compare to the St. Ann's 1912 picture. I couldn't find any pictures in my photos, but I did find a handwritten page of school notes on "State Normal School, Bloomsburg, Pa." paper dated 12-4-1915. In researching it further, I found the attached picture and short biography of my Great-Aunt Mamie on the Bloomsburg University website archives. Because Mamie was born in June, 1898, she was probably 13 in the 1912 picture of St. Ann's. I looked back at the original St. Ann's picture I sent and believe you may be right on the student you picked out as Mamie.


It is amazing to me that the daughter of an Irish Immigrant miner and his Irish Immigrant wife (married at St. Ann's Church in 1878) was able to go to college, graduate, and teach.

My great-aunt, Mary "Mamie" Boyle (1898 Drifton - 1963 Philadelphia), is the same child that I mentioned with the St. Ann's class picture and she signed the attached contract in August of 1919. Mamie Boyle taught for years in the Freeland area. I've also attached a school picture of her from 1936-1937, although I have no idea what school she was working at when the picture was taken.

The attached 1919 contract is amazing to me. Teachers "will always be in the school room and have the room clean and comfortably heated before the time for opening the morning session" (top of contract) and had to perform the "ordinary duties of a janitor" (bottom of contract). According to my father, teachers were not allowed to be married, so my great-aunt Mamie always had control of the parlor in the house to visit with her beau, Nicholas Polaneczky. Mamie and Nick dated for years prior to marrying. I am not sure exactly when they married, but some time after their marriage, they moved to Philadelphia, PA. Mamie did not have children and was the only girl in her family (out of three girls that reached adulthood) to get married.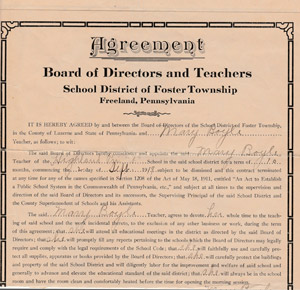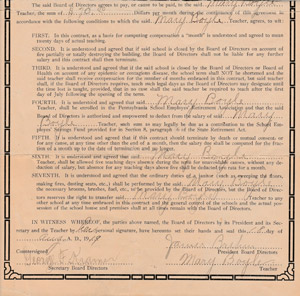 Thank you, Eleanor, for sharing these family images and family history with us all.