What's on this page:
Insurance agents listed in directories and maps, 1895-1940

On related pages:
---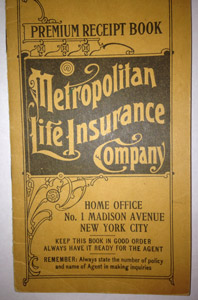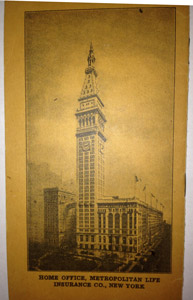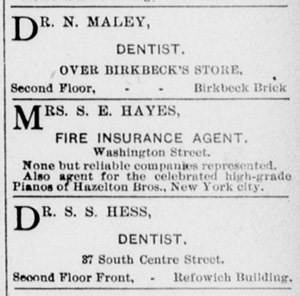 The image at top left shows the window of the Metropolitan Insurance office that was upstairs in the Refowich building - image cropped from a photo of the Refowich from Ed Merrick.

At left above are images from the cover of a Metropolitan Life Insurance booklet, thanks to Diane Unangst whose family had a policy with that company.

At right above are 3 ads from the Freeland Tribune in 1901, the middle ad being for Mrs. Sarah E. Hayes, widow of attorney J. D. Hayes. She is listed in the 1897 directory as living at 65 N. Washington St., north of Front St. It's so fascinating that in the 1890s and into the early 1900s she is a fire insurance agent who also insures the "celebrated high-grade Pianos of Hazelton Bros., New York city." Wouldn't it be interesting to know how she got into this business?


---
Insurance agents listed in directories and maps, 1895-1940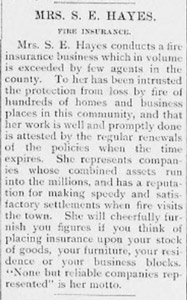 1895 Freeland city directory




In business listings:


Metropolitan Life Insurance Co., William E. Russell, supt.; 87 Front
Prudential Life Insurance Co., 9 Centre

Although not listed in the directories under Insurance, the 1897 Freeland Tribune noted that Mrs. S. E. Hayes provided fire insurance for homes and businesses.



1895 South Heberton city directory




In individual listings:


Hiney, Charles F., agent, Prudential Life Insurance, 145 Birkbeck St., h



1897 city directory




In business listings:


Fenstemacher, Oscar, insurance agent, 76 E Walnut
Murphy, P. H., insurance agent, 26 N Centre
O'Donnell, M. C. J., insurance agent, 154 S Washington
Thomas, William, insurance agent, 119 S Centre



1897 city directory




In individual listings:


Fenstemacher, Oscar, insurance, 76 E Walnut, h
Murphy, P. H., assistant superintendent, Metropolitan Life Insurance Co., 26 N Centre, h w
O'Donnell, M. C. J., insurance, 154 S Washington
Thomas, William, insurance, 119 S Centre, h



1900-1901 city directory




In business listings:


Metropolitan Life Insurance Co., Washington
Norwich Union Fire Insurance Co., Centre
Orient Insurance Co., Hartford, Centre
Prudential Life Insurance Co., Will R. Donmoyer, ass't sup't, Centre cor. Main
Shovlin, Hugh A., justice of the peace, also insurance, Centre