What's on this page:
20th- and 21st-century florists
19th-century use of Hazleton florists

---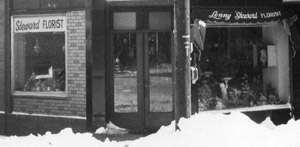 The photo here and also at top left of Lenny Steward's florist shop in the Refowich building was taken by Ed Merrick. Later he moved down the street near the Laundermat.




Flowers have been an important part of human culture for nearly as long as there have been humans. Flowers are a vitally important aspect of the natural world. They beautify our homes, gardens and landscapes, and I remember finding seeds, plants, and gardening supplies and equipment at the hardware stores.

But they're also important for our social lives, and to get flowers for bouquets and corsages and wreaths and other arrangements, we went to the florists. They sold us beautiful flowers for weddings, funerals, dating, anniversaries, celebration of holy days in churches, bringing beauty and comfort to those who are ill.

Florists fill an important role in bringing flowers into our lives.




---



Here are many of the Freeland florists from the mid-20th-century onward.

The list probably isn't complete -- please help to add to it or correct it

.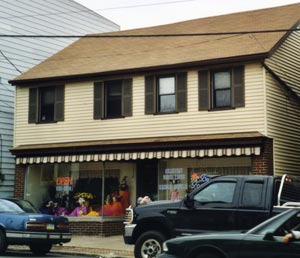 Buds for You

- 505 Centre St. (formerly Lenny Steward's florist shop). (photo at right - note that this and the Lenny Steward's color photo below show these two different businesses, two different time periods, same building)

Tommy's Florist Shop - 452 Centre St. (Tom Bzdil, Sr. and Helen Palya Bzdil) Previously this building was the site of Palya's grocery store.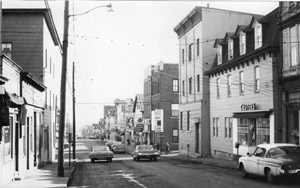 Caster's Floral Shop - 710 Centre St. (R.S. Caster, proprietor) ('52 Minamek) Photo taken by Ed Merrick.

Fedorshak's Florist Shop (Ed Fedorshak, proprietor) - Alvin St.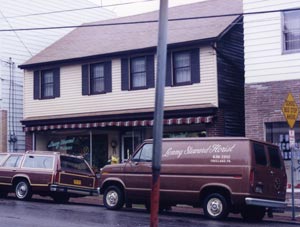 Lenny Steward's - 505 Centre St., between Main & South Streets (Lenny Stewart, proprietor) (note that the photos of Buds for You and Steward's are of two different florist businesses, two different time periods, same building) - Previously Lenny Steward had his shop in the Refowich building, see photos at top of page.


and ...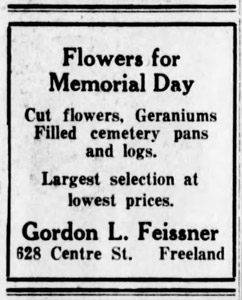 Feissner's Hardware Store - 628 Centre St. (Gordon L. Feissner, proprietor) I can't remember if Bonomo's also did this, but this ad from 1952 shows Gordon Feissner supplying flowers for the cemeteries for Memorial Day.






---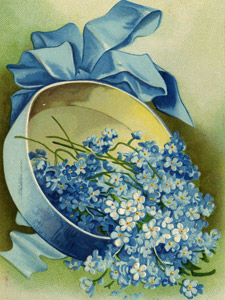 The earliest directory listing I've seen for florists in Freeland so far is this:





1940 city directory




Florists in business listings:


Bob Smith's Flowers - 710 Centre (this was the address later occupied by Caster's - was this Bob Smith related to the Hazleton florist Smith, perhaps?)

So, beyond getting them from their own gardens or from their family, neighbors, friends, where were Freeland area people getting their flowers from, especially for special occasions?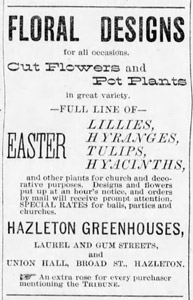 Looking at old issues of the

Freeland Tribune

, it seems that they were buying them from Hazleton florists. In late 1882 a new florist was opening up shop under Union Hall in Hazletion. They advertised grasses, including pampas plumes and fancy baskets, plus "plants of every description at very low rates," including orchids. The ad at left appeared later in the

Freeland Tribune

in March 1893, promising an extra rose for every purchaser who mentions seeing their ad in the

Freeland Tribune

.

Meanwhile, 1896 notices/ads for florist H. W. Montgomery mentioned that he "supplied his customers in town [meaning Freeland] with flowers on Thursday," and that he offered special prices to all purchasers from Freeland and vicinity.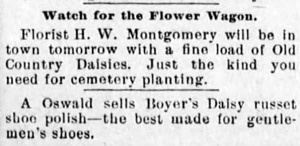 The May 25, 1899 note at right announces that H. W. Montgomery would be making a Freeland run the next day with a load of daisies, just in time for Memorial Day.