What's on this page:
20th- and 21st-century contracting and building construction
Building construction listed in directories 1900-1940
On related pages:
---


There is overlap among three sets of pages here for Construction, Building supplies and services, and Building furnishings and decoration, so please also visit the other related pages.
More images will be added as time goes on.


[Thanks to Ed Merrick, John Braddock, George Feussner, Tish Kirk, Aileen Mattavi Evans, Antoinette Refowich for additions and corrections. All photos by Chuck and Steve Tancin except for Gauz Furniture, by Eddie Barna.]

Additions from Catholic Reference Book and Parish Register, circa 1924 come to us from Ed Merrick. Additions from the 1940 Federal Census come to us courtesy of Ed Merrick. In some instances, it's not clear whether the individual is the owner/proprietor of the store or an employee, but we'll list them here. Some of the addresses from the 1940 Census might be home addresses rather than business addresses. He adds: The handwriting was hard to decipher in many instances, and so corrections are welcome. Many of the businesses have been in the same family for years, and so the first names may differ in earlier or later years.

Joseph Balon - 434 Adams St., plumber, own business (age 42 in 1940 Census)


Ira Berger & Sons

, Building contractors, office and yard: Birkbeck and Johnson Sts. (from Billy Kuklis, 1932 FPD Ball program)



Centre Electric

- 711 Centre St. - (Peter Zarosky and Bernard Gallagher, Electrical contractors) - Radio and appliance repairs (from Ed Merrick, 1947 ad) - Radios, toasters, sweepers, washers, electric irons, portable radios, new fluorescent lighting fixtures, record-players, new and used photograph records (1946 ad - no TVs yet) - new Fada Television display at Fairchild's Television Room at Fairchild's Restaurant (1946 ad) - new Fada televisions playing at several area bars (1948-1949 ads)
(From Mary Gallagher Schiebmaier: My father, Bernard Gallagher and his partner, Peter Zarosky owned and operated a TV and electrical store on Center St. in the 40's & 50's. The name of the Store was Center Electric, across from Doc Welsh's between Front & Walnut Streets.)
(From Charlie Gallagher: Potsy Zarosky and Charlie's dad were business partners at Centre Electric 1946-1954 after which Bernard Gallagher went to the General State Authority, and served as an electrical inspector for the construction of the Philadelphia State Hospital.)

George J. Chonko - Plumbing, Heating, Keystokers. ('53 Minamek)

Johnny Citro (stonecutter, tombstones)



James Deitos, Mason Contractor

- 602 South St. (from 1986 St. Casimir's booklet)

DiFeo Brothers, Builders and Contractors - 404 Cedar St., Daniel DiFeo, carpenter, housing contractor (age 25 in 1940 Census) ('64 Minamek) (From Ed Merrick: One of these fellows was shop instructor at MMI when I was a student there. He was a handsome and talented man, I remember.)

Freeland Fence

Co.

- 404 Ridge St. (Vito Poleri, proprietor) (from 1986 St. Casimir's booklet)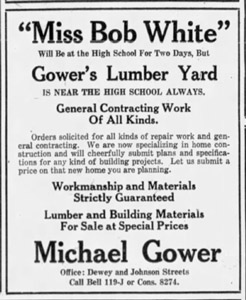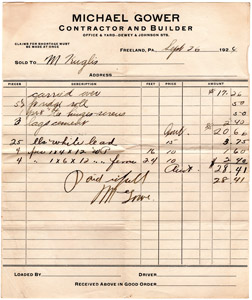 Michael Gower

, Building contractor and lumber yard, Johnson St. (from Billy Kuklis, 1932 FPD Ball program) - General contractor and lumber yard - Dewey and Johnson Sts. - now specializing in home construction (1924 ad) - According to his obituary (thank you, Donna Maso), Gower's company built the Highland and Ripples schools and many homes and other buildings in Freeland and nearby towns. In later years he concentrated on building supplies. The 1924 bill here came from Billy Kuklis.

Louis P. Guerriere - 725 Main St., painter, employer (age 29 in 1940 Census)

Russell Horn - 222 Adams St., carpenter, contractor (age 49 in 1940 Census)


Thomas Karpowich

, Contractor - 1106 Walnut St. (from Ed Merrick, 1919 ad)

William Karpowich Construction - 1000 School St.


A. F. Kester

, Contractor - 1135 Pine St. (from Ed Merrick, 1949 ad)



Howard G. Lentz

- 556 Walnut St., carpenter (age 37 in 1940 Census)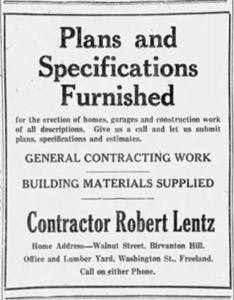 Robert Lentz

- General contracting work; home address Walnut St., Birvanton Hill; Office and lumber yard, Washington St. (1924 ad at left) - In 1926, he was the contractor handling repairs and painting of the Bellezza building (1926 notice)



Michael Lukac

- 631 Centre St. - Electrical wiring and contracting. House work and fixtures a specialty. General electrical work and supplies. Radio Corporation of America. Radiolas and supplies. (Source: Catholic Reference Book and Parish Register, circa 1924) - Electrical supplies & service - Electric heaters; house wiring; electrical equipment and radio supplies; repairing electrical equipment; wringer washing machines (1922, 1924, 1925 ads)

Leo Marchetti - 446 Adams St., mason, own contractor (age 31 in 1940 Census)

Marchetti's Plumbing - 435 Centre St., William Marchetti, proprietor and salesman, hardware store (age 36 in 1940 Census)

Maso's Plumbing - (Charlie Maso, proprietor)

Johnny Mehan (stone cutter, tombstones)

John A. Mulhearn, Plumbing and Heating - 235 Centre St. ('51, '53 Minamek); (listed as Mulhearn Fuel Service, Fuel Oil and Kerosene in 1986 St. Casimir's booklet)



Poleri Cement Block

, Vito Poleri, Washington St. (from Billy Kuklis, 1932 FPD Ball program)

Poleri Construction

Co.

- 404 Ridge St. (Vito Poleri, proprietor) ('54 Minamek, 1986 St. Casimir's booklet)



Joe Ranieri

- stonemason (Joe and his team built a number of buildings in Freeland, including St. Luke's and St. Jphn's Nepomucine churches - info from Antoinette Refowich; see the Joe Ranieri page for more information)

Linus Reiser - 818 Ridge St., stone cutter (age 56 in 1940 Census)



John J. Witchin, Plumbing and Heating

- 1127 Chestnut St.

John Zrelock, General Contractor - Route 940 East of Freeland (From John Braddock: If possible, could you add John Zrelock, general contractor to your list. He is my uncle,and his business was located on east 940,next to what is now Shelley's lumber.The building still stands today.He was in business from the 1950's, well into the 1980's. My uncle tells me when he returned home from Europe after WWII, Berger Construction Company had a training program for veterans,which he attended. At first he was partners with John"Bunny"Banyas.After they split he went on his own.At one time he also ran a poultry farm at the east 940 location.I don't ever remember that property having an address.)


---



Building construction listed in directories 1900-1940





1900-1901 city directory




In business listings:


None



1912 telephone directory




In general listings:


Boyle James W, Con & Bldr – Johnson nr Alvin
Boyle J W, Contractor – Woodside
Griffiths J E, Contractor & Builder



1917 telephone directory




In general listings:


Berger, Ira, Contractor - 1137 W. Walnut
Boyle, James W., Contractor – Front
Boyle, James W., Contractor & Builder - Johnson near Alvin
Gower, Michael, Contractor & Builder - 990 W. Walnut
Griffiths, J. E., Contractor & Builder - E. Carbon
Higgins & Fox, Contractors & Builders – Green
Lentz, Robert A., Contractor & Builder - S. Washington
Scheers & Restenberger, Contractors & Builders - 905 Pine



1921-1922 city directory




In business listings:


Berger's Lumber Yard, contractor, also lumber, Birkbeck cor Walnut
Boyle, James W., [heading is contractors and builders], also lumber, 415 Johnson
City Lumber Yard, [heading is contractors and builders], also lumber, Carbon E of Adam
Lentz, Robert A., [heading is contractors and builders], also lumber, South Washington & L V R R



1928-1929 city directory




In business listings:


Berger, Ira & Son, general contractors, also retail lumber, 803 Birkbeck at Walnut
Bitetti, John, carpenter contractor, 936 Center
Cashimer, George A., painter and decorator, 999 Chestnut
Coyle, Eugene J., painter and interior decorator, also paperhanger, 1016 Ridge
DeFrancisco, Peter, mason contractor, 113 Alvin
Faua & Son, general building construction contractors, 1010 Birkbeck
Gower, Michael, contractor and builder, 425 Johnson
Guzzi, Anthony, painter and decorator, 833 South
Kester, Alfred F., carpenter contractor, 1105 Pine
Kozel, Joseph J., carpenter contractor, 1167 Walnut
Lentz, Robert A., general contractor, 175 Washington
Nowak, Andrew, contract painter, paperhanger, 1115 W. Walnut
Poleri, Vito, brick and cement work, concrete and excavating contractor, general contractor, 822 South
Ranieri, Joseph Sons, mason contractors, 532 Ridge
Steward, Arthur L., general building construction contractor, 214 Adam



1940 city directory




In business listings:


Berger, Ira & Son, contractors and builders, roofing, lumber, 803 Birkbeck
Gower, Michl, contractor and builder, 425 Johnson
Guerriere, Leonard, [heading is painters and paperhangers], 729 Main
Karpowich, Thos. W., contractor and builder, 1112 Walnut
Keller, Jno. E., [heading is painters and paperhangers], 214 Adam
Lentz, Robt. A. Estate, contractor and builder, 175 Washington



And, from the 1940 Federal census, contributed by Ed Merrick:


Tony Maso, 58, mason (WPA), 626 Hemlock Street