Early accounts
1873 Freehold map
More 1873 maps
Municipal matters
Businesses
Places of worship
People
Organizations
Schools
Entertainment
Transportation
Street names
Buildings
Newspapers
The original name of the town that became Freeland was Freehold. But when the borough was incorporated in 1876, it was with the name of Freeland. In his book on Freeland history, Charles Stumpf tells the story:

A meeting was called in town hall. It was a long affair with much discussionn and the presentation of many ideas and opinions. Postmaster Luther Dodson pointed out that there was already another town bearing the name 'Freehold' within the postal district. So the selection of a new name became the order of business. After much deliberation Mr. Manus Conaghan stood up and declared: "Gentlemen. I do not believe that we are getting anywhere and there is no use discussing this problem all night. Since we cannot seem to agree on a complete new name, why can't we change just a part of it? I move that we change just the last part and call the town Free-LAND."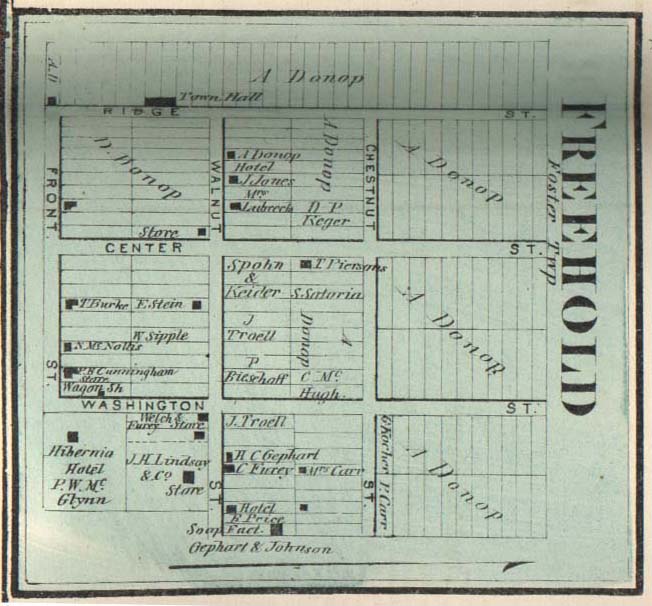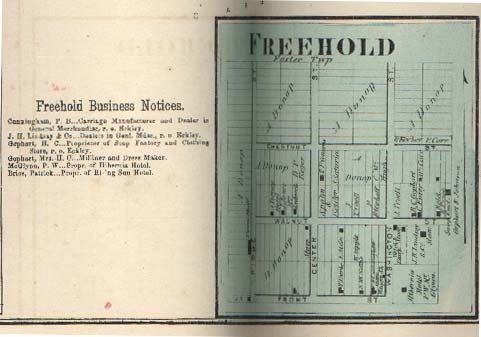 The map featured on this page comes from The Atlas of Luzerne County, published in 1873. It shows the early limits of Freehold and the names of the property owners, along with a few businesses. It's interesting to see the early layout, and how the movers and shakers of the time carved up the land for settlement and development. Here are links to two additional views of the map as they appear in the Atlas, the one at the right showing map with its business listings, and the one at the left rotated for readability.