Early accounts
1873 Freehold map
More 1873 maps
Municipal matters
Businesses
Places of worship
People
Organizations
Schools
Entertainment
Transportation
Street names
Buildings
Newspapers
The maps shown on this page (click on them for larger views) come from The Atlas of Luzerne County, published in 1873. In the case of the township maps I was only able to scan a portion of each map, due to limitations having to do with the size and condition of the atlas. I've cropped the scans to show a few locales in the immediate area of Freeland.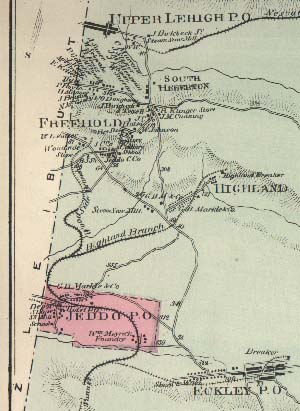 Here is a portion of the 1873 map of Foster Township, showing Upper Lehigh, South Heberton, Freehold, Highland, Jeddo and Eckley. The map shows buildings, roads, railroad tracks, breakers, names of major property owners, rivers and mountains. At the left of the map are boundary lines that Foster Township shares with Butler and Hazle Townships. The Butler/Foster line cuts right through Upper Lehigh, although that's not evident from this map. At this time Freehold had not yet been renamed Freeland, and South Heberton had not yet been annexed to Freeland.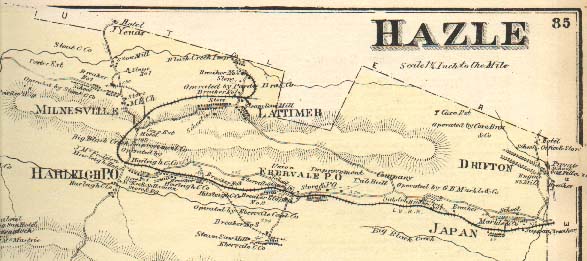 This piece of the 1873 map of Hazle Township at right shows Lattimer, Milnesville, Harleigh, Ebervale, Japan and Drifton. Part of the boundary between Hazle and Butler Townships can be seen along the top of the map.



Here is a rare view of Upper Lehigh from 130 years ago, complete with business notices. The fact that the entire town was owned by the Upper Lehigh Coal Company is clearly shown. The breaker, the saw mill, the water works and a reservoir are marked, as is the line between Foster and Butler Townships.