What's on this page:
Graduating class group photo
Class Night group photo at Pocono Manor

Commencement program
---

Ed Merrick wrote: "

I have great photos for you from Carol Snyder Cipperley of the Class of 1954 at Freeland High School. In this first shot, I can identify, in the first row of girls seated, Barbara Marencin on the left end and Carol Snyder, near the center with glasses. In the rear standing are, beginning third from the left, Robert Lynn; Adolph "Buzzy" Peters, who would become principal of FHS; and Henry Bartol, class valedictorian whose father had a shoe repair shop on Chestnut Street

."



This photo of FHS class of 1954's Class Night at Pocono Manor comes from Carol Snyder Cipperley, via Ed Merrick. Ed wrote: "

Here is the photo that Carol Snyder Cipperley sent me of the graduating class on June 1, 1954, at Pocono Manor. I have identified as many as I could and left numbers for ease of identification by the fans of your web site. Please note that these IDs are to the best of my ability and that corrections are welcome. I hope Carol's generosity will inspire others to get offer their priceless photos, which I know are sitting in shoe boxes in drawers

."

Front row, above "F," Carol Ann Corazza; above "Sch," Joyce Kiddish; above "ol," Carol Snyder, above "of," Caroline Holland. Girls on the left end are possibly Barbara Marencin and possibly Dorothy Franek. Last girl on the right is Arlene Karpowich.

Row just behind the girls: a, Henry Bartol, Robert Lynn.

Back row: 1, 2, 3, 4, 5, 6, 7, 8, John "Jack" R. Gallagher (physical education, social studies), Michael J. Karboski (consumer education, driver education), possibly John F. Turri (who taught health, general science, and social science), possibly John B. Timko (who taught industrial arts), Robert F. Schultz (supervising principal), Howard Hontz, George L. Feissner (principal), Leroy B. Hinkle (band, mixed chorus, orchestra), Robert Luckenbill, 11, Daniel Hinkle, 12, Robert Domshick, John Amentler, James Lutz, 13, Joseph Rodzewich, 14, Edward Kite, 15, 16, Mark Bredbenner, Robert Salitza, Adolph "Buzzy" Peters, 17, 18, 19, 20.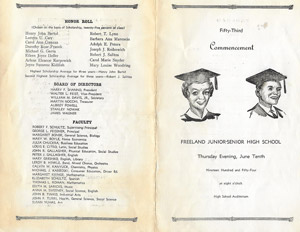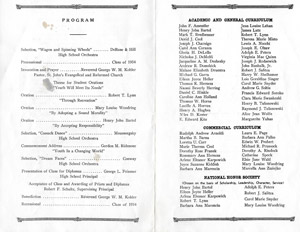 And here is the Commencement program that came with the photos. Thank you very much to Carol Snyder Cipperley for sharing these mementoes, and to Ed Merrick for bringing them to us.