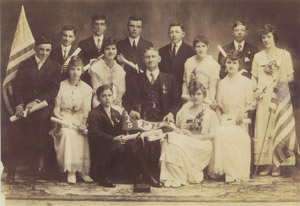 This photo comes to us from Marie Joan (Quigley) Buday, whose grandfather was James F. McHugh, the station master for the Lehigh Valley RailRoad. She wrote that "He built the family home at 219 Washington Street, and he died in 1913." She added: "The only person that I know from the photo is Thomas E. McHugh, (son of Thomas W. McHugh and .Mary Gallagher) seated at the far left, under the flag. This was sent to me recently by Thomas's daughter, Mary Ellen Guyle from Auburn NY. My mother was a McHugh, daughter of James McHugh Station Master of the Freeland Lehigh Valley station. Thomas E. McHugh's father was James's brother"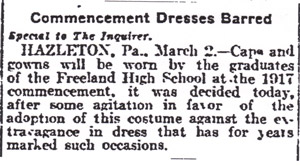 Joan also sent this, writing: "

I read recently in an old Wilkes Bare newspaper that it was tradition for the graduates to wear their own very special clothing for graduation, but the school board changed the policy about two years after this photo was taken, and graduates would hence-forth wear caps and gowns for the ceremony

."