History of Freeland, Pa.
Freeland Fire Department, 1960s


Charlie Gallagher supplied this clipping, showing the Freeland Fire Department's new fire truck in 1966. Standing in front of the truck were John (Barron) Lutz, fire-driver; little Scott Wise; William Wise, Citizens Hose Co. fire chief; and John Nicholson, Freeland fire chief.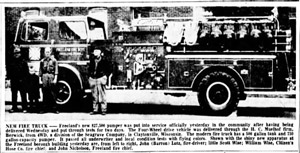 And here are two photos of the FFD firetruck in 1961, courtesy of Charlie Gallagher. His father Bernard Gallagher can be seen in one of these photos.