What's on this page:
Holiness Christian Church
Partial timeline glimpses 1895-1904
On related pages:
---

The circa 1929 photo at top left comes to us thanks to Colleen Tatar, showing the building that in its early years was the Holiness Christian Church, also known as the Christian Holiness Church. The larger photo that this one was cropped from is shown further below.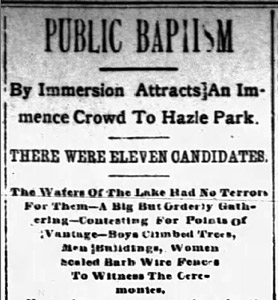 Ed Merrick did a lot of research for this page, and he summarized what he found in the news reporting:

What I have come up with on the Christian Holiness Church in Freeland is vague. The activity seemed to center more in Sandy Valley, although its adherents also met in Eckley at the schoolhouse. Apparently, it was considered as a cult by some, and frequently there was harrassment at its outdoor gatherings.





The adherents spread the word through camp meetings under tent until it recruited enough members to establish a physical presence. They constructed churches on North Locust Street in Hazleton and Weatherly in 1896 and rented an old schoolhouse in Audenried. They also had a presence in McAdoo, then referred to in news reporting as Macadoo. They attracted a lot of attention because of their practice of baptism by total immersion, which drew a huge crowd to Hazle Park in 1897

.

Charles Stumpf noted that this church was referred to locally as the Berger Church, built in 1889 by Emmanuel Berger for the Christian Holiness Church, an independent religious sect. In his Freeland book on p.16 he wrote that "A religious organization, known as 'The Holiness Christian Association,' was located on North Centre Street." In Freeland Tribune listings of church services in 1892 and 1893, the "Heavenly Recruits" at this location were led by pastors Rev. Charles Brown in 1892 and Rev. H. J. Lengle in 1893. This church and religious group has been variously cited as Christian Holiness and Holiness Christian in the local reporting. After Freeland's buildings were renumbered their address was 911 Centre Street, just above Chestnut Street. Some time later this Centre street building was bought by the Freeland Shirt Company, who used it for their first factory. It was later used as an annex housing their storage and cutting departments. The Freeland Shirt Co. Annex was gutted by fire in November 1931.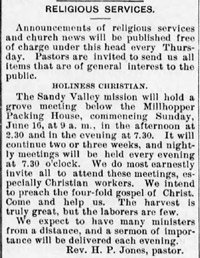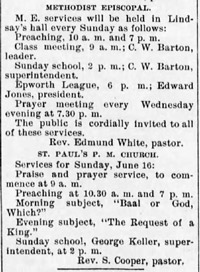 Freeland Tribune

June 13, 1895, partial clipping: Rev. H. P. Jones advertised in the Freeland Tribune that the Sandy Valley Mission of the Holiness Christian Church would hold a grove meeting below the Millhopper Packing House in Sandy Run that would last for 2-3 weeks.

In 1897 this church was listed in the Freeland directory as the Holiness Christian Association, north Centre street, Austin, pastor; in the individual listings, he was cited as: Austin, W. P., pastor, Holiness Christian Church, home Highland road. The Christian Holiness Church appears on Centre street just above Chestnut on Sanborn Fire Insurance maps in 1900, 1905 and 1912. On the 1900 Sanborn map it was labeled this way: "Christian Holiness Church. Heat: Stoves. Lights: Oil, 16' to eaves."

In a

Standard Speaker

article from October 21, 1974 about the 100th anniversary of the Park United Methodist Church, there is this sentence: "It is interesting to note that a Primitive Church group met for a while on Centre Street where the old Abrams mill now stands." Really? Was that a reference to this group, in which case, was this building still standing in 1974? It was almost directly across the street from Herkalo's store, and Bob Zimmerman says that he remembers it in the 1940s. I have no idea how long it was there before it was torn down. Or was the "Primitive Church group" mentioned related to those who later joined St. Paul's Primitive Methodist Church, perhaps after it was moved from Jeddo to Fern street in Freeland? Was the reference to "where the old Abrams mill now stands" a reference to this building or to a different building?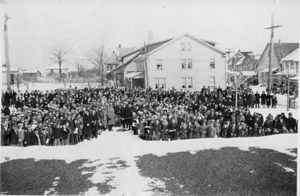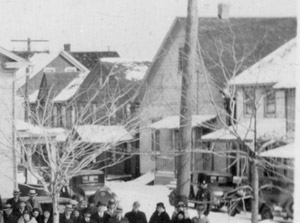 Finally, in this photo from Colleen Tatar showing the school groundbreaking ceremony at St. Ann's in 1929, this building is shown at right, by then a disused factory, noticed by Cal Herring after I posted the photo on facebook to solicit information on what occasion had been captured in the photograph. Thank you, Colleen, for sharing this copy of your father's photo, and thank you, Cal, for your eagle eye and good memory! If anyone can share information or family memories about this church or the factory that later was in the building, I'd be happy to share those here.


---

Partial timeline glimpses, 1895-1904


October 26, 1895

Hazleton Sentinel

: A description of Sandy Run from the Hazleton Sentinel included this: "The town … has a large company store and offices. It has … one Presbyterian Church and a society of people called the Christian Holiness Association, and one school house."

May 2, 1896

Hazleton Sentinel

: "ECKLEY. The church of holiness will hold services in the school house tomorrow evening. Rev. Jones, officiating."

September 14, 1896

Freeland Tribune

: "A. K. Burger, will begin work upon a new church for the Holiness Christian Association at Weatherly this week."

October 10, 1896

Plain Speaker

: "Weatherly Notes. Work on the new church of the Holiness Christian Association at Weatherly is progressing rapidly. The frame work was set up on Thursday."

April 3, 1897 S

tandard-Speaker

: "… Rev. Austin, formerly of Reading, but now of Freeland, where he has charge of the Holiness Christian Association, delivered a powerful sermon on the subject "Remembrance", last evening. A number of young men and boys who are known, created a disturbance on the outside of the church. Two parties are known and will likely be called to account for their actions. They are not only boys, but men varying in ages from 15 to 25, who should know better. Church is no lace for curiosity seekers and hoodlums to congregate."

August 9, 1897

Hazleton Sentinel

: A vivid account of an event of Baptism by immersion at Hazle Park.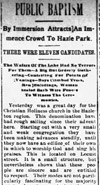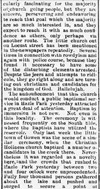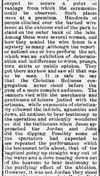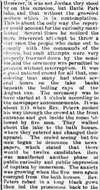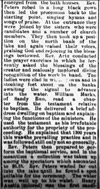 August 12, 1897

Hazleton Sentinel

: Reports that in Audenried a young woman had a warrant issued against her stepfather for assault and battery. She was a recent convert to the Christian Holiness Church and regularly attended services, against the wishes of her stepfather. Being an adult and not dependent on him, she ignored his protests, and he finally assaulted her on the street, "bruising her face considerably."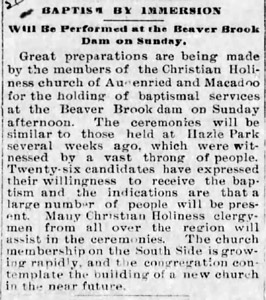 September 29, 1897

Hazleton Sentinel

: Baptism by immersion to be performed at the Beaver Brook Dam on Sunday.

July 3, 1898

Plain Speaker

: "The camp meeting being conducted on the Jeanesville level by the Holiness Christian church is attracting large crowds of people."

July 11, 1898

Plain Speaker

: Reports on a Holiness Christian camp meeting in Jeanesville, considered successful and attended by a large number of people. However, there was also a "slight disturbance" caused by a boy who was then "ejected from the grounds and a large crowd gathered, threatening violence to one of the gentlemen who participated in the services. Happily no blows were struck and quiet was restored."

July 17, 1899

Plain Speaker

: "A Rev. Honsloff who, it is said, is a recent convert to Christian Holiness, was the chief drawing card at the camp meeting yesterday."

August 1, 1899

Plain Speaker

: Discusses the camp meeting of the Holiness Christian Association at the Public Park the previous evening, and how pleased the ministers in charge were with how they were treated and by the receptivity and respectfulness of the attendees.

March 9, 1900

Plain Speaker

: "Rev. Henry Magee, who has been pastor of the Christian Holiness church in town [Hazleton], has been assigned to a charge in Chester. Rev. H. G. Jones has been assigned to Freeland and Sandy Valley."

July 19, 1901

Plain Speaker

: "Services will be held at the Christian Holiness church at 10 a.m. on Sunday and at 7 p.m. Rev. Mason officiating."

May 1, 1904

Plain Speaker

: "Rev. H. E. Jones, of Reading, will commence a series of revival services at the Christian Holiness church on North Centre street this evening. He will be assisted by two lady evangelists."


[I don't yet know how long this church was open or how long this religious group was active in Freeland. – CT]

Thanks to Colleen Tatar for the photo at top left of the page, to Ed Merrick for considerable research and clippings for this page, to Charlie Stumpf for his research and publications, and to Cal Herring for identifying the building in Colleen's photo.