Kasarda Saloon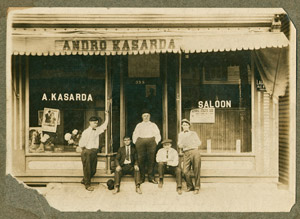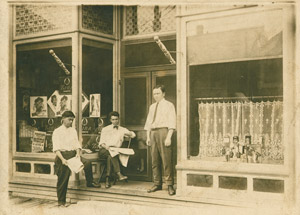 Some years ago Ed Bacon sent me these two photos of Edward Gallagher's barbershop and Andro Kasarda's saloon, writing:

"I am the grandson of Edward J. Gallagher. He and his brother Peter were barbers first at 354 Centre St. and then 713 Main St. We lived on Main St with them until the mid-1960s. I have a number of photos that were on the Main St. shop walls."

One shows 5 men in front of Andro Kasarda's saloon, right across the street from Edward Gallagher's barbershop at 354 Centre Street. The other photo shows the front of the barbershop, with 3 barbers standing outside: Edward Gallagher at right, his brother Peter at left, and a third barber, name unknown, at center. Based on the poster in the saloon window (advertising the National Athletic Club, Monday evening, June 7, 1915), this photo was likely taken in 1915. So that puts the photo of the front of the barbershop also at around 1915, as two of the barbers are in both photos, looking very much the same in both – Peter Gallagher at left, and the unknown barber at right. I'm assuming that the man standing in the doorway is Andro Kasarda; I don't know who the two men sitting on the step are.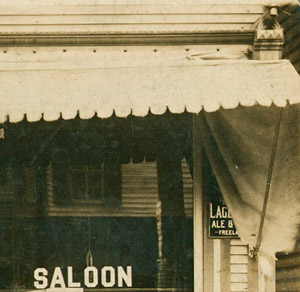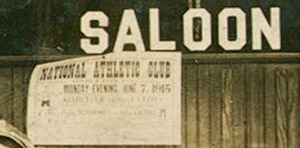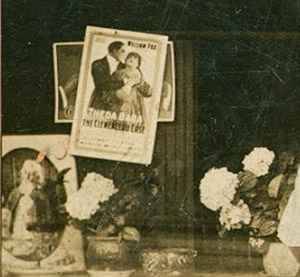 I'm adding four cropped details from that photo, showing larger views of a detail of the building, the poster in the window, contents of the other window, and the man I'm assuming is Andro Kasarda.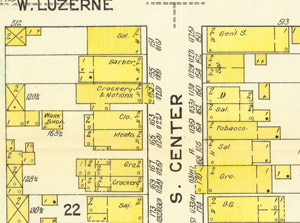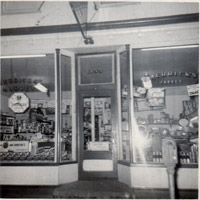 When I was a kid in the 1950s, Merrick's grocery store was just up the block from us at 355 Centre, but long before that there were at least three saloons at that address over the years. John Stahl's saloon was listed there in the 1886-1888 Freeland directory, occupying half of a duplex. In the 1897 and 1901 directories it was Mathew Makarewics' saloon [early address number was 129]. There was still a bar there on the 1905 and 1912 maps, but I don't know whose – by 1912 a saloon occupied both sides of the duplex at 154-152 Centre, formerly 129-127. The photo of Andro Kasarda's saloon featured above dates from around 1915, and Kasarda's is also listed in the 1921-22 and 1928-29 directories at 355 Centre. Ed Merrick recalls, "We bought the building at 355 Centre Street from Andrew Kasarda in 1949 or 1950."