PART #1 - Day 1 (Monday) - collecting conversations
Per your comment, I would like to include conversation in the piece concerning everyday activities on the street, which may or may not include comments about the buildings on the street and your building in particular . You could even get youself and any other residents of the building to comment.
"its known for its very alternative atmosphere to the majority of auckland city suburbs. however recently (over the last year or so) historical buildings have been torn down or renovated to house a growing influction of up-market clothing stores/cafes/franchise restuarants and corporate businesses. bulidings like the ones in the photographs i have posted (the barker and pollock building) are some of the few remaining.
the barker and pollock building i have photographed is home to 6 young artists including myself and is in fact due for demolition at the end of this year."
OPTION 1: I propose that you "collect" conversations on the street by sitting in public spaces that people use for private conversations, i.e. coffee shops, restaurants, internet cafes. OPTION 2: If this is difficult to do with the time constraint and/or you feel that the project would be better served by a more specific context for the conversation, collect conversations/record an interview with yourself and those in the building concerning what you are going to do since your building will soon be demolished. Ask anything you want concerning the road, but please include the following questions: (1) What has been your experience living in this building on K'rd? (2) How do you feel K'rd will be different without this building and without six young artist residents? (3) Where are you going to live after the building is demolished? The final product of this conversation should feel very informal, like sitting around having a few beers, bullshitting about what is this place coming to. Any specifics in the answers are welcome and necessary so as not to make the conversation feel too contrived.
If possible, please forward me these conversations so that I would have the control in choosing what to use and what not to use.
PART #2 - Day 2 (Tuesday) - molds of private spaces
Using plaster casting techniques, make plaster molds of "private spaces" that you find on the roof top. The molds should look very clean and geometrical, almost like building blocks. However, the forms should not all be cubic, but should vary depending on the corner of the roof top you are casting. Sizes may range from 5x5x5 cm to 30x30x30 cm and should include a variety within that range. The total number of molds should be anywhere from 15-35, depending on what size the finals molds are. Documentation which includes some areas from the pictures that I see as "private spaces" is forthcoming.
Transfer the conversations onto the molds, writing all over the molds with different kinds of markers, pencils, and pens. Also, please have different people writing on the molds, using different handwriting. Here, I am specifically referencing the graffiti that is on the edge that you will be setting the molds on, and again juxtapositioning private/public graffiti and private/public conversations.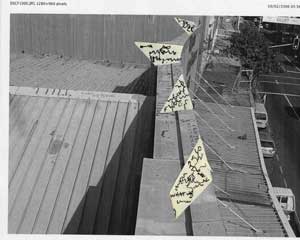 PART #3 - Day 3 (Wednesday) - set up and documentation
Set molds along precipice of roof top facing the road. Molds should be evenly spaced along building. Sketches of possible setup is forthcoming.
Obtain two to three binoculars with tripods. Set along K'rd on opposite side of street of roof top, one directly in front of building and two on either side about 3 meters from edge of your building. Sketches of possible setup is forthcoming.
Documentation should include photos of molds, so that one can see writing, photos of molds on roof top from all three binocular positions, photos of people using binoculars and interacting with piece. Video documentation of these interactions is also welcome!
FINAL NOTES
In general, I would prefer a relationship where you record information for me in New Zealand (i.e. the conversations, the molds), send me the information, I make decisions concerning what would be used, and then lend you further instruction. This means quick turn around time on both our parts. PLEASE CONTACT ME IF YOU HAVE ANY QUESTIONS OR SOMETHING IS NOT VIABLE, SO THAT I MAY MAKE A DECISION ON WHAT TO DO.