15-128 meets Tuesday from 3:00 p.m. to 4:20 in 7500 Wean Hall.
During this series, freshman CS majors meet and hear from different members of the SCS community. The speakers talk about our school, their research in CS, the history of computing, and future trends. The goal is to expand the students' concepts of what is Computer Science and what resources are available to them as students within the School of Computer Science.
In addition, this course is a place to build community among the Freshman class, and to extend their horizons within and without CMU. To this end, please read the Passing the IC web page, which describes how to accumulate enough points to pass this course. Download the Point Log, an Excel file for monitoring/describing your activities (you will have to hand in this file).
Schedule: Fall 2008
Date
Speaker/Activity
August 26
Peter Lee, Professor and Head of Computer Science
www.cs.cmu.edu/~petel/

September 2
Intro Group

September 9
Randy Bryant, Dean of the School of Computer Science
www.cs.cmu.edu/~bryant/

September 16
Tom Mitchell, Fredkin Professor of AI and Machine Learning
www.cs.cmu.edu/~tom/

September 23
Raj Reddy, Mozah Bint Nasser University Professor of Computer Science and Robotics
www.rr.cs.cmu.edu/

September 30
Roger Dannenberg, Associate Research Professor
www.cs.cmu.edu/~rbd/

October 7
Seth Goldstein, Associate Professor
www.cs.cmu.edu/~seth/

October 14
Howie Choset, Associate Professor of Robotics
www.cs.cmu.edu/~choset/

October 21
Lenore Blum, Distinguished Career Professor of Computer Science
www.cs.cmu.edu/~lblum/

October 28
Jacobo Carrasquel, Freshman Advisor
www.cs.cmu.edu/~jxc/

November 4
November 11
Jessica Hodgins, Professor, Computer Science and Robotics
www.cs.cmu.edu/~jkh/

November 18
Avrim Blum, Professor of Computer Science
www.cs.cmu.edu/~avrim/

November 25
Thanksgiving
December 2
Manuela Veloso, Herbert A. Simon Professor
www.cs.cmu.edu/~mmv/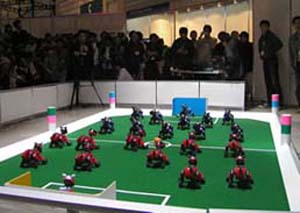 | | |
| --- | --- |
| CMU Sony Legged Robot Soccer Team (see Manuela Veloso) | |