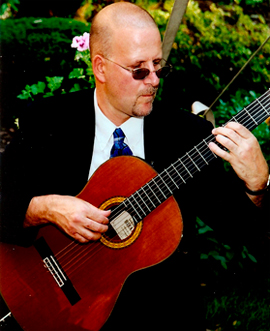 Faculty
James Ferla
James Ferla, director of the Carnegie Mellon guitar program, has given numerous solo and ensemble concerts throughout the United States, including programs at the Smithsonian Institution, Arizona State University, Wolf Trap, the Chautauqua Institution, Florida State University, Oberlin College, and Notre Dame. He has been heard on NPR, PBS, CBS, Voice of America, USIA, Chukyo TV-Nagayo in Japan, and in Pittsburgh on WQED-FM. Ferla has published several articles on guitar repertoire in SoundBoard, the journal of the Guitar Foundation of America, and is heard on seven CDs. He performs most frequently in a guitar duo with colleague John Marcinizyn with a repertoire ranging from Renaissance to jazz. In addition to concerts with the Ferla-Marcinizyn Guitar Duo, he has also performed with the Pittsburgh Symphony, Cuarteto Latinoamericano, singer/actress Kate Young, the Renaissance City Winds, the Dear Friends Ensemble, oboist Cynthia Koledo DeAlmeida, tenor Doug Ahlstedt, and mezzo-soprano Daphne Alderson For more information, see http://www.andrew.cmu.edu/user/ferla.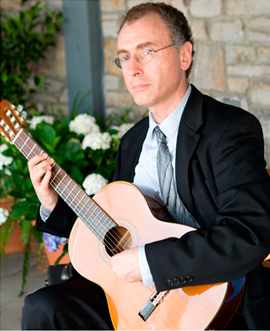 John Marcinizyn
John Marcinizyn holds a Ph.D. in music composition and theory from the University of Pittsburgh. His versatility as an acoustic and electric guitarist allows him to perform in many styles including classical, jazz, rock, blues, and folk. His compositions include a concerto for guitar and orchestra, various orchestral works, a string quartet, many works for solo guitar, guitar with mixed ensemble, and a number of rock and jazz pieces. His Sonata for Guitar and Marimba received critical acclaim following its premiere at the Guitar Foundation of America International Festival and Competition held in Buffalo. His "Song for the Sparrows," commissioned by the Westmoreland Symphonic Winds in memory of two members of the orchestra who were killed in the bombing of Pan Am flight 103 in 1988, premiered in November of 2005 at Seton Hill University. John also performs frequently as a soloist, with the Ferla-Marcinizyn Guitar Duo, contralto Daphne Alderson, flautist Tom Godfrey, and with groups ranging from the Bach Choir of Pittsburgh to the Pittsburgh Playhouse Professional Company Ensemble.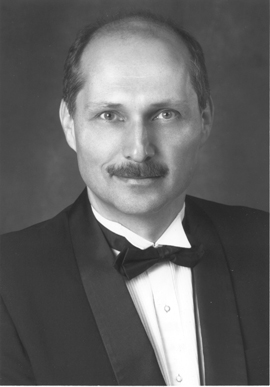 Tom Godfrey
TomGodfrey maintains an active schedule as a free-lance musician in the Pittsburgh area both as classical guitarist and flutist. As a flutist he regularly performs with the Benedum Orchestra, Pittsburgh CLO, Gateway to the Arts, and Wheeling Symphony. As a guitarist he performs in a variety of venues and is a member of 'Arioso', an eclectic chamber music group. He received his musical training at the New England and Peabody Conservatories of Music. In addition to teaching in the CMU guitar studio he is Artist Lecturer of Chamber Music at Carnegie Mellon and is on the adjunct faculty of Pittsburgh CAPA.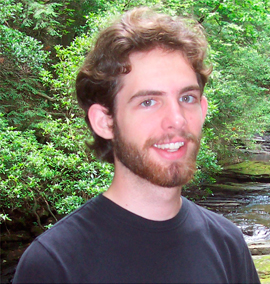 Ben Rainey
Ben Rainey was born in Nashville, Tennessee, growing up surrounded by music, musicians, and songwriters. He played for short periods on harp, piano, and clarinet as a child. When he was twelve, he began playing his father's guitar and was soon taking lessons. During his teenage years, Ben studied jazz and rock guitar, music theory, songwriting, and music production with producer/guitarist Charles English. He soon formed a band with some friends and gigged frequently on the weekends throughout high school. While deciding what to study in college, Ben's teacher suggested that he study classical guitar in order to develop a foundational understanding of music. Six months after buying his first classical guitar, Ben began his college auditions. He attended Carnegie Mellon University where he studied classical guitar with James Ferla. During his junior year in college, he began teaching private lessons in a range of styles beginning with students as young as six years old. He graduated with university honors from CMU in the spring of 2009. Ben continues to teach, as well as perform regularly with an experimental group called Kalon. He has enjoyed performing in a variety of ensemble over the years, including the CMU guitar ensemble, the Pitt Indonesian gamelan ensemble, Steel River Resonance sax and guitar duo, Dangdut Cowboys Indonesian pop band, and CCGF praise band.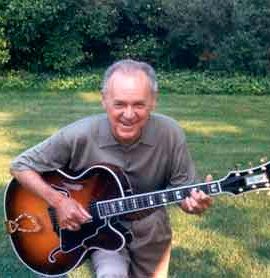 Joe Negri
Joe Negri is one of the most recognized names in Pittsburgh music circles and one of the finest jazz guitarists in the United States. Apart from his featured concerts, he is frequently requested as a backup guitarist for acts performing in Pittsburgh. He has accompanied Johnny Mathis, Tony Bennett, Andy Williams, Yo-Yo Ma, and Wynton, Branford and Ellis Marsalis; and. His career has spanned several decades and he has performed in every aspect of the music business. He has appeared frequently as a guest soloist with the Pittsburgh Symphony and the Pittsburgh Symphony Pops under the direction of Marvin Hamlisch. For more than twenty years he was musical director at WTAE, and he performed on several award-winning TV programs. His frequent appearances as Handyman Negri on the Mister Rogers Neighborhood Show have provided Negri with nationwide exposure. Mr. Negri has also distinguished himself as a composer. He has written and produced many musical reviews. His composition "The Crossing" was premiered by The River City Brass Band, and his most recent work, "The Mass of Hope," has received critical and artistic acclaim. In 2005, Duquesne University presented Joe with an Honorary Doctorate in Music.