Philadelphia Courthouse Mural (1995)
Art with Philadelphia Elderly




Douglas Cooper, Artist
School of Architecture
Carnegie Mellon University

E-mail Douglas Cooper at dcooper+@andrew.cmu.edu

Artist's Assistants:
Debbie Zwetsch, Walter Tien
Coordinator at the Center in the Park : Louise Strawbridge

Architect: The Vitetta Group

Back to Douglas Cooper


Other Murals by Douglas Cooper

CMU University Center, Pittsburgh
Heinz History Center, Pittsburgh
John's 44th St., New York
John's 65th St., New York
Kleinmarkthalle, Frankfurt
UCSF Mural, San Francisco
Baker Mural
Italy Mural (new)


Articles about the Murals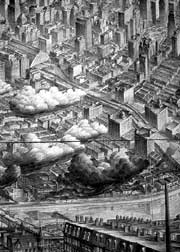 Center City in 1925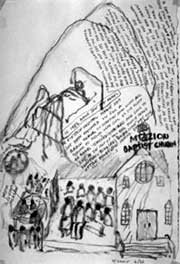 Mamie's Dream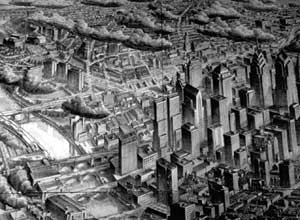 About the mural...

The 96 foot-long panoramic view of Philadelphia for the main lobby hallway of the downtown Philadelphia Justice Center was a cooperative project developed under the City of Philadelphia Percent for Art Program (Office of Arts and Cultures, Public Art Offices). I brought together more than 40 elderly residents to complete it, and I worked jointly with them at the Center in the Park in the Germantown district of Philadelphia. Local artist, Deborah Zwetsch and I assembled their memories over the previous 80 years.

The mural presents Philadelphia in both a naive and naturalistic style. It shows the city from a sliding point of view looking in an eastward direction across the Schuylkill and extending from Manayunk to the Airport.

The memories of the elderly are highly personal. Some are sentimental, some painful, some humorous, some ordinary. Among those reports are: 1) The Philadelphia Navy Yard as remembered by the only black pipe fitter working there during World War II. 2) The infatuation of a fifteen year-old girl for a movie theater organist in Manayunk named Jacob in the late-1920s-she even remembered the license plate number of his car. 3) The well known Showboat Jazz Club where John Coltrane used to play and where one of our elderly remembered that John Hall, a turbaned saxophonist from the 1950s, was the first to walk the bar. 4) An 87 year-old woman seeing an angel while she was recovering from surgery, 5) A detailed report of the travails of the integration of Girard College during the 1960s.

I thought it appropriate to include these highly personal accounts in a civic mural in a courthouse because of the mural's location in a hallway just outside of the Jury Selection Room. The impact of this proximity is born out by the following story related to me by someone who served on a jury at the Justice Center. She told me that as the only white member of a jury that had just been selected she felt initially estranged. The initial meeting of her jury seemed to confirm her anxiety. She felt she shared little in common with her peers. Then the members took a break and walked down the hall past the mural. They looked casually at it at first pointing out buildings to one another as they recognized them. Then they began to study some of the stories of the elderly that are in the lower areas of the mural. They began talking together about these stories and subsequently about themselves. Sharing these stories cemented her inclusion in the group.

I could think of no better anecdote to state the case for public art.