John's 65th St. Murals (1993)

A Set of Murals about New York and Broadway at John's 65th St.
48 West 65th Street




Douglas Cooper, Artist
School of Architecture
Carnegie Mellon University

E-mail Douglas Cooper at dcooper+@andrew.cmu.edu

Sarah Cooper, Artist's Assistant
Andrew Tesoro, Architect

Back to Douglas Cooper


Other Murals by Douglas Cooper

CMU University Center, Pittsburgh
Courthouse Mural, Philadelphia
Heinz History Center, Pittsburgh
John's 44th St., New York
Kleinmarkthalle, Frankfurt
UCSF Mural, San Francisco
Baker Mural
Italy Mural (new)

Articles about the Murals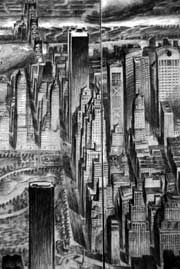 Upper Mural: Central Park South



Lower Mural: The Metropolitan Opera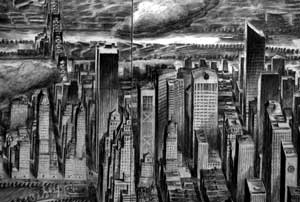 About the mural...

John's has a two storey central space with mezzanine seating opposite the mural and booth seating on the ground floor along the mural's base. I composed the mural to respond to the site lines offered by these seating arrangements.

The upper band of the mural parallels the height of those patrons sitting in the mezzanine with a bird's-eye view of Manhattan that aligns with their own elevated position in the restaurant.

By contrast, the lower portions respond to the lower and nearer standpoint of those seated in booths. These more earthbound views detail daily life at street level along the length of Broadway. In response to the more individual character of booth-type seating, these panels have their own central vanishing points, in effect extending the shared axis of each booth back into space. They focus on individual locations in the city, and it might be said that each booth has its own address.

From left to right, the northernmost centers about Columbia University, and shows the houses of some of my friends who live nearby; the second focuses on the 78th Street rooftop of Andrew Tesoro, the architect of John's 65th Street; the third cuts through the interiors of theaters of nearby Lincoln Center and shows Columbus Circle on the occasion of the Macy's Day Parade; the fourth shows Times Square on New Year's Eve and an interior of Old Pennsylvania Station nearby. The southernmost shows Bleeker Street, interior details of the original John's Pizzeria, houses of more of my friends and the well-known Festival of St. Anthony in the distance.

Taken as a pair, the upper heaven-bound band and the lower earthbound portions contrast the nature of Manhattan's two primal positions: the omniscient and detached wonder of being up in a tall building and, by contrast the intensely tactile and distinctly unpretty character of life at street level.