Kleinmarkthalle Mural Frankfurt am Main (1996)
Teaching a foreign language through art with the elderly




Douglas Cooper, Artist
School of Architecture
Carnegie Mellon University

E-mail Douglas Cooper at dcooper+@andrew.cmu.edu

Professor Stephen Brockmann Department of Modern Languages Carnegie Mellon University

Student Interns:
Anne Garibaldi, Jayakrishnan Nair, Amie Robinson, Martin Schaeffers, Rachel
Schmeidler, Christa Sherwood.



How was the mural made?

Back to Douglas Cooper


Other Murals by Douglas Cooper

CMU University Center, Pittsburgh
Courthouse Mural, Philadelphia
Heinz History Center, Pittsburgh
John's 44th St., New York
John's 65th St., New York
UCSF Mural, San Francisco
Baker Mural
Italy Mural (new)

Articles about the Murals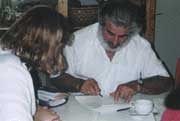 Christa with one of the elderly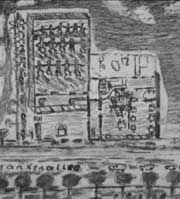 A drawing by one of the elderly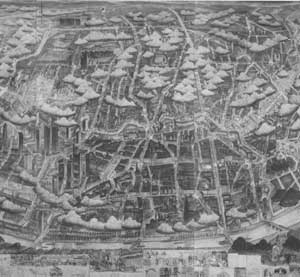 About the mural..

In Summer 1996, I completed this mural for Frankfurt's central food market, die Kleinmarkthalle, with Professor Stephen Brockmann , a German teacher from Carnegie Mellon University, six paid student interns and fifty elderly residents of Frankfurt. From the start it was conceived as an art project with a parallel mission of providing language instruction for American university students.

The mural is composed in two levels. In an upper frieze, it shows present-day Frankfurt in a bird's-eye panorama that, in its direction of view, recalls the well-known Merian family print from the 1640s. It shows Frankfurt in the context of the Rhine/Main Valley and details the city from Hoechst in the West to the neighboring city of Offenbach in the East.

By contrast, the lower frieze presents a collective subconscious of the city, a memory map of Frankfurt for the past 80 years. Represented in a more naive style, this section assembles stories from our interviews with elderly recruited to the project from Frankfurt senior centers. Many of their stories are light-hearted, but, owing to Germany's recent history, many are tragic. We experienced much laughter in completing this mural, but also many tears.

The project was funded by grants from: Robert Bosch GMBH, Deutsche Bank Bauspar A.G., The Roy A. Hunt Foundation and The National Endowment for the Arts. Upon completion, the work was donated to the City of Frankfurt. I have written a book (in German), Frankfurt Panorama, about the making of this mural.