Key Speakers
---

Rob Bear
Director, Environmental Affairs, Alcoa Inc.
Rob is Alcoa's Corporate Environmental Director, responsible for the Company's strategic direction, policies and standard requirements related to all environmental programs. These include corporate sustainability initiatives concerning climate change and water conservation. Rob joined Alcoa in 2000 as Director of Remediation Operations, responsible for managing the Company's environmental liabilities at over 130 active, inactive or formerly owned Alcoa locations. Prior to joining Alcoa, Rob spent 15 years in the environmental engineering and consulting business, providing remediation and site restoration services to industrial clients throughout North America.
---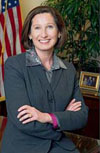 Mary Beth Buchanan
United States Attorney for the Western District of Pennsylvania
Mary Beth Buchanan is the United States Attorney for the Western District of Pennsylvania. She was appointed by President George W. Bush on September 5, 2001, and confirmed by the United States Senate on September 14, 2001. Ms. Buchanan is the first woman in Pennsylvania's history to be Presidentially appointed to this position. As United States Attorney, Ms. Buchanan oversees the prosecution of all federal crimes, and the litigation of civil matters in which the federal government has an interest, throughout the twenty-five counties in Western Pennsylvania.
Mary Beth Buchanan's Full Biography Page: http://www.usdoj.gov/usao/paw/bio.html
---

Court Gould
Executive Director, Sustainable Pittsburgh
Court Gould has worked for the International Air & Waste Management Association headquartered in Pittsburgh, served as Executive Director of the Audubon Society of Western Pennsylvania, and consulted to several national conservation organizations. He has been the Chair of the Greater Pittsburgh Nonprofit Partnership and recently the Chair of the Local Government Academy and President of Friends of the Riverfront. He recently participated as a German Marshall Fund delegate in study of regional economies in Europe and also recently spoke at an international conference on sustainable development in Hiroshima.
Court Gould's Full Biography Page: http://www.sustainablepittsburgh.org/NewFrontPage/Staff_Biography.html
---

Dale Hershey
Associate Teaching Professor of Law, Tepper School of Business
Professor Hershey's has taught courses at the Tepper School such as Business Law and Ethics, Ethical Issues in Business and Business, Society and Ethics. His current interests include the impact of non-market forces on domestic and international business and strategies for dealing with those forces, including antitrust regulation, product liability, environmental regulation, corrupt practices, international trade policy, society's expectations and applied ethical principles. He is an attorney with Eckert Seamans Cherin & Mellott, LLC.
Dale Hershey's Tepper School of Business Profile: http://public.tepper.cmu.edu/FacultyDirectory/FacultyDirectoryProfile.aspx?id=70
---

John Hooker
T. Jerome Holleran Professor of Business Ethics and Social Responsibility, Professor of Operations Research, Tepper School of Business
Professor Hooker's research interests include operations research, business ethics, and cross-cultural issues. He teaches courses in these fields at the undergraduate, postgraduate, and executive levels. He has published over 130 articles and seven books and is founding editor-in-chief of the Journal of Business Ethics Education. He is the founding director of the Center for International Corporate Responsibility at Carnegie Mellon. His book Working across Cultures is used as a text in cross-cultural business courses at several universities.
John Hooker's Homepage: http://ba.gsia.cmu.edu/jnh/
---

Kay Lee
Assistant United States Attorney for the Western District of Pennsylvania
---

Terry F. Yosie
President & CEO, World Environment Center
Terry F. Yosie joined WEC in October 2006 as the President & CEO. In this capacity, he develops and implements strategies to achieve this non-profit, non-advocacy organization's mission to advance sustainable development through the business operations of WEC member companies and in partnership with government agencies, non-governmental organizations, universities and other stakeholders.
Dr. Yosie has held senior level positions in a number of government, corporate and consulting organizations. For example, he served as Vice President at the American Chemistry Council from 1999-2005, providing leadership to upgrade the chemical industry's environmental, health, safety and security performance. He managed a global CEO Task Force in 2004-2005 to develop the Responsible Care Global Charter to improve chemical industry performance and sustainable development commitments in 52 countries, including many in emerging market regions. He represented the industry as a delegate to the 2002 U.N. World Summit on Sustainable Development in Johannesburg.
---

Peter Madsen
Peter Madsen is Distinguished Service Professor of Ethics and Social Responsibility at Carnegie Mellon. He is an adjunct professor at the Graduate School of Public and International Affairs, University of Pittsburgh. Madsen's interests are varied in the field of applied ethics including international corporate responsibility, environmental ethics, professional ethics and computers, society and ethics. His papers and reviews appear in diverse journals and reference texts and he is a member and past executive director of the Center for the Advancement of Applied Ethics and Political Philosophy. He was an editorial board member of the Business Ethics Quarterly for 16 years and is one of the original members of the Society for Business Ethics.
Peter Madsen's Homepage: http://www.heinz.cmu.edu/bio/faculty/pm2n.html
---

Erin Toal-Rossi
Erin Toal-Rossi, Graduate Student Assistant, received her undergraduate degree at Carnegie Mellon University in Fine Arts and Urban Environmental Studies. Currently she is pursuing an M.S. in Public Policy and Management from the H. John Heinz III School of Public Policy and Management. Her past work experience includes environmental literacy research for both Carnegie Mellon's History Department and the LUCE Foundation. In addition, she has worked as a Cultural Resource Assistant at Rocky Mountain Arsenal National Wildlife Refuge Superfund cleanup site and at The Urban Redevelopment Authority of Pittsburgh. She has several semesters of experience as a Teaching Assistant for Ethical Decisions in Professional Life in Carnegie Mellon's Department of Philosophy.
---
ˆ Head back to the top