Computerized Training Tools for Cryosurgery
<![if !vml]>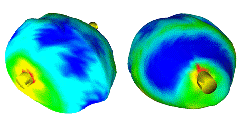 <![endif]>Cryosurgery is the destruction of undesired tissues by freezing. Despite the continuous development of devices and techniques for minimally invasive cryosurgery, modern cryosurgery frequently falls short of maximizing cryodestruction to the target region, while minimizing cryoinjury to the surrounding tissues. Here, one of the most significant difficulties—and probably the less intuitive obstacle to overcome—is the design and generation of a frozen region to adequately correlate with the shape of the target region and established criteria for cryosurgery success. This project focuses on medical training and education associated with planning and creation of the optimal 3D thermal field for cryosurgery, for the benefit of the surgeon, the medical researcher, and the clinical instrumentation developer.
A computerized training tool is developed in this project, the objectives being to shorten the clinician's learning curve, reduce practice time, enable case studies of "what-if" scenarios, and to enable revaluation of past clinical procedures via a cryosurgery database. While the training tool is designed for general purposes, due to its high clinical relevancy, a particular attention is given to prostate cryosurgery.
This project integrates computational techniques for simulation of the surgical procedure, including the imaging effects unique to freezing, and predictions of the bioheat transfer process in the clinically treated area. This project utilizes rapid simulation techniques for bioheat transfer, and recently developed algorithms for computerized planning of cryosurgery.
Further included in this project are new tools to simulate ultrasound imaging, interactive prostate shape reconstruction from 3D TRUS images, and simulating the effect of tumor growth on the prostate shape.
This project is conducted in collaboration with the Computational Engineering & Robotics Laboratory.
<![if !vml]>

<![endif]>
This research is supported, in part, by the National Cancer Institute, NIH Grant # 1R01CA134261