Ultra-Miniature Wireless Implantable Temperature Sensors
<![if !vml]>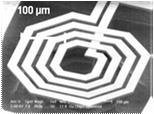 <![endif]>This project focuses on the development of ultra-miniature wireless implantable temperature sensors, for the purpose of evaluation and control of thermal surgery. Thermal surgery—the thermal destruction of undesired biological tissues such as cancerous tumors—can be achieved by either freezing (also known as "cryosurgery") or by heating (also known as "hyperthermia" at moderate temperatures, and "thermal ablation" at higher temperatures). Examples for heating applications are high frequency ultrasound (HIFU), radio-frequency ablation (RFA), and laser probes. Thermal surgery is a minimally invasive procedure in nature, where its successful application is dependent upon the ability to measure temperatures at critical locations and reconstruct the temperature field in real time.
The goal in this line of research is to make temperature-field reconstruction in real time a practical reality. Proof-of-concepts for two key elements are being developed in the current study: a miniature wireless temperature-sensing unit and a method to reconstruct a temperature field from data collected from multiple sensors. While this project uses cryosurgery of the prostate as a research model, results of this study are translational to all other thermal modalities in medicine.
The groundbreaking conceptual design of the new temperature-sensing unit originates from recent advances in electronics fabrication, miniaturization, and wireless communication. The sensing-unit design consists of three main components: a temperature-sensing core, a wireless transceiver, and a power link.
<![if !vml]>

<![endif]>
This research is supported, in part, by the National Institute of Biomedical Imaging and Bioengineering (NIBIB) NIH Grant # 1R21EB009370