Tau Beta Pi at Carnegie Mellon
Welcome to the official website of the Pennsylvania Gamma chapter of Tau Beta Pi, the Engineering Honor Society.
News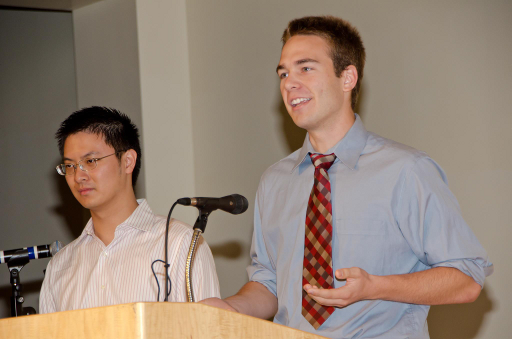 Dean's List
On September 16th, Tau Beta Pi hosted the Carnegie Institute of Technology Dean's List Lunch. The college honored those students who made the Spring 2012 Dean's List, including the following TBP members:
Class of 2013
Neil Abcouwer
Rui Cai
Andrew Chung
Erin Donnelly
Stephanie A. Engle
Philip Etling
Evan M. Gates
Brandon Girmus
Tyler Huberty
Erin Hurbi
Huan Kiat Koh
Kee Young Lee
Stacey Lee
Jason Lin
Siyun Luo
Brian Osbun
Steven Pepin
Huan Qin
Jayon Wang
Class of 2012
Mukul Bhatt
Elizabeth Cole
Emily Davenport
John M. Duhring
Ibuki Kamei
Karen Khalaf
Paul H. Kimball Jr.
Joseph J. Kromka
Paul Victor Nunez
Neereja M. Sundaresan
Chun How Tan
Xingyi Zhao
Andrew Carnegie Society Scholars
ACS Scholars represent 40 of the best and brightest of the senior class. They are selected by deans and department heads and represent high standards of academic excellence, volunteerism, leadership, athletics or the arts. The following Tau Bates were named as Andrew Carngie Society Scholars for 2012-13:
Neil Abcouwer
Evan Gates
Huan Kiat Koh
Siyun Luo
Andre Sutanto
Jayon Wang