Next Event: Club Meeting. Thursday, 12 November 2009, 4:30 - 5:30 PM (PH 126A). The Objectivist Ethics, Part 1
Club Overview
Welcome to the Carnegie Mellon Objectivist Club, a student organization dedicated to understanding Ayn Rand's philosophy of Objectivism and applying it to life. We regularly meet every Thursday at 4:30 PM (tentatively in PH 126A, but our regular meeting location may change). Check out our meeting schedule for more details and meeting topics.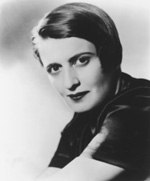 Objectivism holds that reality exists independent of the mind, that reason is man's only means to knowledge and guide to action, that man has a moral right to live for his own sake, and that the ideal social system is laissez-faire capitalism. It is a system that properly identifies philosophy as a science designed to achieve the greatest, happiest, most fulfilling life here on earth as is possible.
The club aims to serve two primary purposes for its members. The first is to provide access to literature, to present screenings of videos, and to host activities designed to study and promote the philosophy of Objectivism. The second is to bring individuals with a common interest in Ayn Rand's philosophy together socially. Strong friendships are formed from a foundation of common values, and interacting with other Objectivists can make the process of learning and applying the philosophy of Objectivism to life an easier and more enjoyable experience.
More Information
If this philosophy interests you, please come to one of our meetings or events, or contact us for more information. You can also browse our website to learn about Objectivism or find out more about the club.