USTA Tennis on Campus Middle State Sectionals
[Author: Chris Park]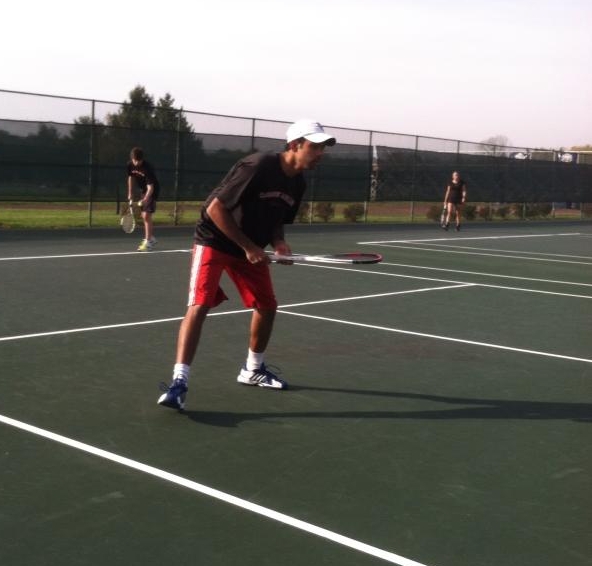 For the first time, CMU Club Tennis traveled to Lehigh University last October to participate in the USTA Tennis on Campus tournament. Teams from across the Middle States region gathered for 2 days to compete for a spot in the National tournament in April.
The club got off to a rough start with a difficult match-up with the University of Pittsburgh's A team. Although they were beaten handily 23-17, some inspired tennis, especially from the men, injected some belief in the team that would last throughout the tournament. A particularly unexpected result came in the men's singles where Chris Park came back from 1-4 down to win 6-5(5-2), saving a match point at 5-2, deciding point when a forehand from his opponent just missed the sideline. Coupled with some close losses in the men's and mixed doubles matches, the team acquitted themselves well in their first hurdle.
The confidence gained from the close losses was evident in the next two matches, which saw CMU clinch wins over St Joseph's State University and Villanova B. The match against St Joseph's State University was dominated by CMU with four of the five matches easily going their way. The only blemish was a narrow loss at men's singles where Karthik Lakshmanan was edged out 6-4 after a series of mid-match momentum shifts. The match against Villanova saw some clutch performances, especially from the women's doubles team of Katy and Allie Del Giorno, who eked out a 6-5(5-3) win and the mixed doubles team of Eli Zauner and Katy McKeough, who pulled out a decisive win against Villanova, 6-4, giving CMU a marginal victory of 24-22. By the end of Day 1, CMU had finished second in the round robin group with a 2-1 record, placing them in the single-elimination silver bracket for Day 2.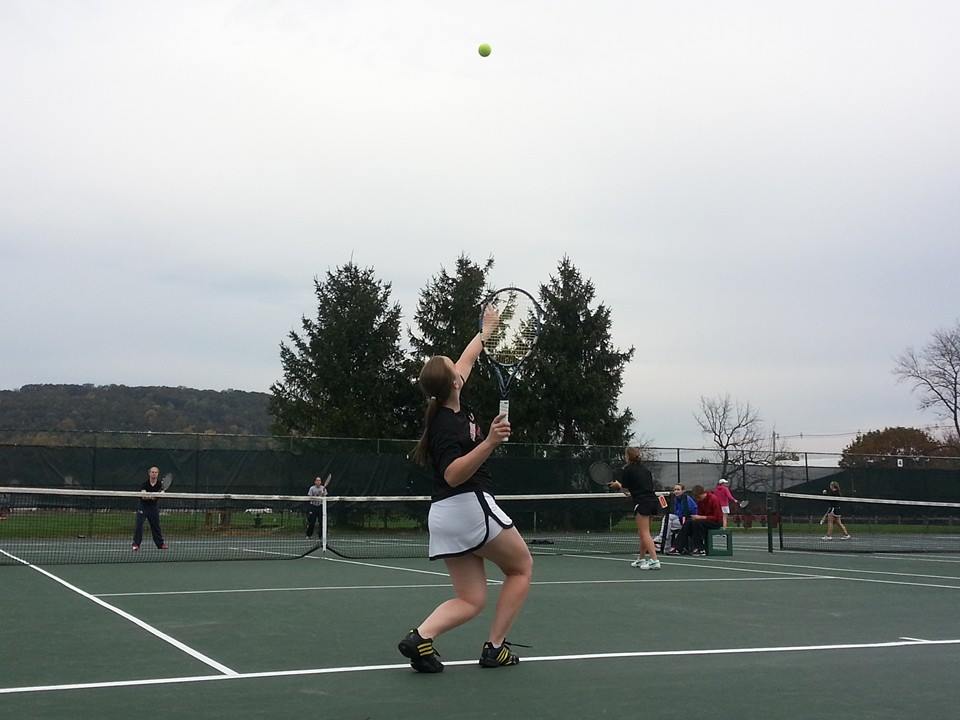 Day 2 contained three more exhilarating matches. First up was Lehigh B. Split results between the first four events led to a 1 game difference heading into the mixed doubles match with wins for CMU at men's singles (Chris, 6-4) and women's doubles (Allie and Katy, 6-3). Fortunately for the team, a comprehensive 6-2 win by the tried-and-true pairing Katy and Eli sealed the deal. Galvanized by the result, CMU proceeded to dispatch Pitt B in the second match with a 24-17 victory which included a clutch win by Chris (6-5(5-3)) and decisive victories for Karthik and Eli (6-3) and Vera Artamonova (6-1).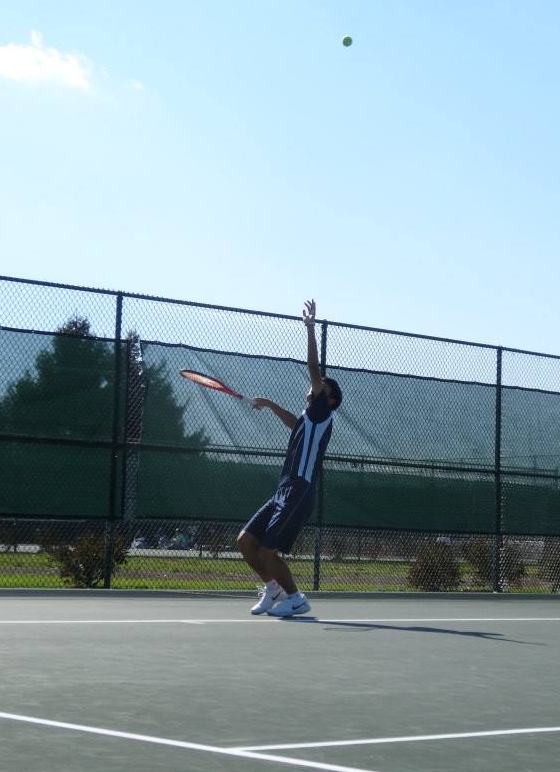 The final match of the silver bracket saw CMU take on Lehigh A in what proved to be a compelling match-up. At men's singles, Chris went down in an entertaining duel 6-3 in an excellent display of power tennis blended with subtle variety by both players. At men's doubles, Karthik and Eli lost by the same score in another thriller that featured many tense exchanges with all four players at net. Katy and Allie were bundled out 6-1 in the women's doubles but Vera dropped a 6-0 decision in the women's singles to keep CMU's hopes alive. With only the mixed doubles remaining, all eyes were on Eli and Katy to see whether they could pull out another clutch win. They did their part in claiming a 6-4 victory, which required a World Team Tennis-styled overtime to decide the winner of the entire match. With the score at 19-22, CMU needed three consecutive games and a super tiebreak to steal the victory. Eli and Katy managed to claw their way back to 21-22 before Lehigh made its move in taking the final game with a break of serve and with it, the victory. It marked the end of an exciting match and an amazing weekend for the team.
Winners of ZipcarU monthly contest!
[Author: Katy Mckeough]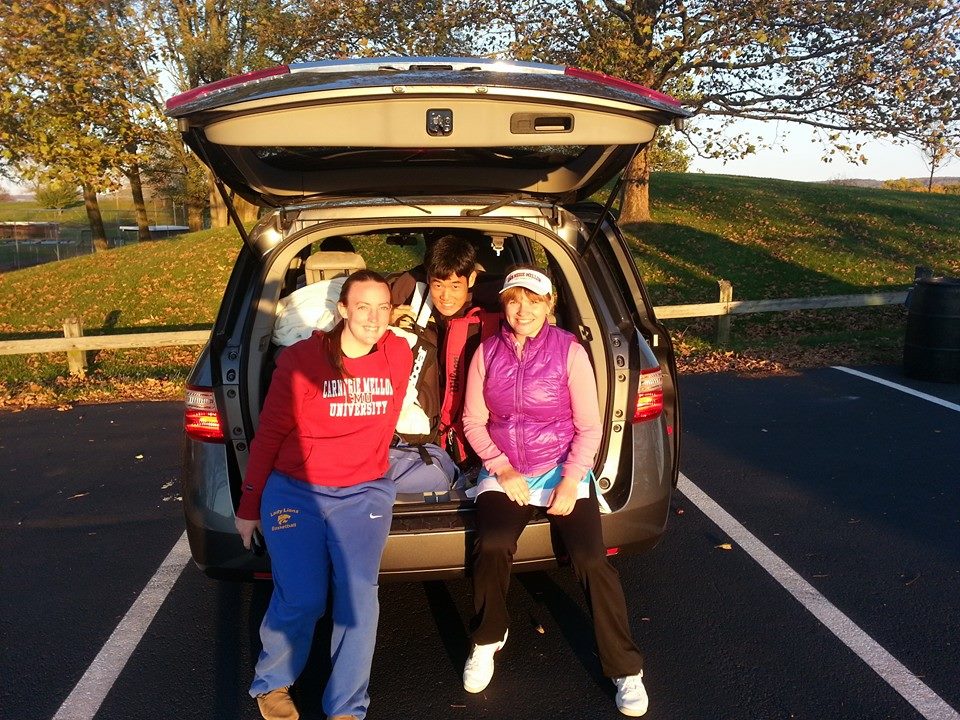 The Carnegie Mellon University Tennis Club is the proud winner of a monthly category grant from ZipcarU's Students With Drive Competition (more info here). The Club was awarded USD 5000 for the team's Zipcar members to use.
These extra miles have been invaluable to the CMU Tennis Club. Zipcar has driven us to Lehigh for the 2013 Tennis On Campus USTA regional tournament, our first tournament outside of Pittsburgh in over 3 years. They have made it easy and affordable to drive our members to indoor practices and away scrimmage matches, allowing the team to bring more players to these events. We would like to thank everyone that had a part in our success, including CMU Tennis Club team members, family, and friends for their support and for ZipcarU for presenting us with the opportunity.