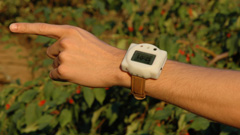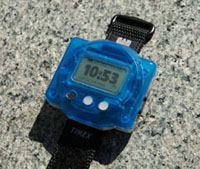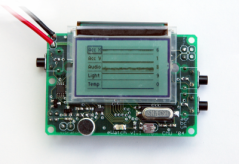 News
10/17/07 eWatch used in stress study. Creators are prime candidates.[Link]
2/13/06 eWatch gets some NPR airtime on Morning Edition.[Link]
12/16/05 eWatch gets a Zigbee enabled 802.15.4 module.[Photo]
08/12/05 eWatch gets a keyboard.[Photo]
06/15/05 eWatch charger assembled.[Photo]
04/04/05 First Generation eWatch Prototype Assembled.[Photo]
03/15/05 Final molded housings have arrived.[Photo]
01/17/05 SLA of final housing complete.[Photo]
10/22/04 Ten eWatch boards have been stuffed and are ready for a housing.
09/15/04 First round prototype eWatch case assembled.
08/30/04 eWatch in the news: Carnegie Mellon University's Institute For Complex Engineered Systems (ICES) signed a research agreement on August 25th with French Telecom that could revolutionize the future of mobile phone devices. [press release]
08/26/04 New eWatch revision built and tested today. All hardware appears functional!
Overview
eWatch is a wearable computing system that can be worn on your wrist. It has several sensors that gather information about the user and the environment. It can attract the user's attention with visual and/or tactile notifications. eWatch supports wireless Bluetooth communication which allows it to interface with a computer, PDA, or cellular phone. The wrist watch form factor allows open exposure to the environment making it ideal for ascertaining user state information. This also means that eWatch is instantly viewable and always accessible to the user.
eWatch has these great features:
a variety of sensors, to sense acceleration, tilt,ambient light, skin temperature, audio
tactile, visual and audio notifications
LCD display with blue luminescent backlight
integrated wireless communication over bluetooth
IR transmission
Programmable over bluetooth
low power consumption
flash memory to store data
small unintrusive form factor
Possible eWatch uses:
Context Aware Cellphone (automatically swtich to vibrate based on user state)
Emergency Watch (detect an accident and notify the authorities)
Personal Organizer (notify you about meetings, classes, public transportations, etc.)
Universal Remote Control (TV, Cable, DVD)
Context Aware Notification (Email, Phone, Text messages, if they are important at the time)
Weather, News and Stocks
Monitor Physical Activity (pedometer)
Tells you the time...