Self-Manipulation
Self-manipulation is a new formal design methodology for dynamical legged robots with varying ground interactions, leveraging wherever possible the salient aspects of the multi-fingered object manipulation literature. Our primary motivation is not to facilitate numerical simulation but rather the distillation of physically parametrized models into formal design results (behavior design, controller design, and robot design), utilizing a variety of analytical and numerical methods.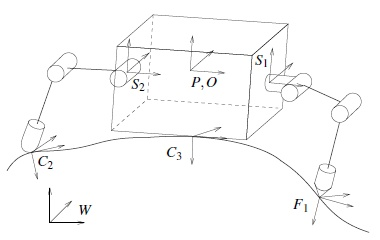 Self-manipulation model with key coordinate frames.
Modeling Decisions
This self manipulation model follows the usual conventions from manipulation wherever possible. As such the robot and the world are separated at the fingertips (now called toes), and are not attached at any foot or separated anywhere in the middle. The wrench bases at the contact points (i.e. the forces and torques that the contact resists) are considered in unison, and through the separated velocity constraints of the grasp map and hand Jacobian dictate the forces and torques on the robot. This framework is body centric, i.e. it does not require full knowledge of the world reference frame (which is at some fixed, but possibly unknown, location relative to the ground). We will allow for the possibility of massless limbs, and as such will not require an invertable mass matrix. Finally as under-actuation is a common and interesting case in locomotion, we also not assume that the kinematic Jacobian is invertable.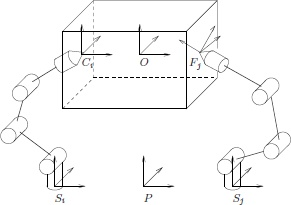 Manipulation model with key coordinate frames
(Figure 2.14 in Murray, Li, & Sastry, 1994).
Comparison to Manipulation
Contrary to the oft encountered adage, locomotion is not the same as manipulation. In particular there are three main differences between the usual manipulation formulation and the self-manipulation setting:
The robot is the object, and so the "Palm" (robot centered) and "Object" (focus of manipulation) frames are coincident, allowing for wrenches and twists that are referenced to that point in the world, as needed by several funamental manipulation results.
We are concerned with motion of the robot and not what the robot is touching, and so the grasp map must be composed with an appropriate reflection. Taking the palm frame as fixed, from the robot's perspective it appears that the movable Earth (the object) is attracted to the robot via gravity, and not the other way around.
The dynamics of the legs and body are not decoupled, so in particular the mass matrix is no longer block diagonal, complicating the dynamics. The extra terms in the mass matrix arise from the coupling between body and leg positions, though these terms drop out if the legs are considered massless.
Why bother following a manipulation formulation if the problems are actually different? While not every result carries over exactly, the problems are similar enough that matching as closely as possible the modeling decisions that have emerged from this very successful and mature body of work facilitates the reuse, or slightly modified extension, of several valuable ideas and results, including the closed-loop constraint, internal forces, and rolling contact.
Key Publications
Legged Self-Manipulation
Aaron M. Johnson and D. E. Koditschek
IEEE Access, Vol. 1, May, 2013. Full PDF
A Hybrid Systems Model for Simple Manipulation and Self-Manipulation Systems
Aaron M. Johnson, Samuel A. Burden, and D. E. Koditschek
The International Journal of Robotics Research, 2016. Author's Original PDF(To appear)
arXiv Preprint arXiv:1502.01538 [cs.RO]
Publications that use Self-Manipulation
Gait Design Using Self–Manipulation
Aaron M. Johnson
Dynamic Locomotion, Robotics: Science and Systems Workshop, July, 2014. Abstract PDF
Self-Manipulation and Dynamic Transitions for a Legged Robot
Aaron M. Johnson
University of Pennsylvania PhD Thesis, 2014. Full PDF
Robot Parkour: The Ground Reaction Complex & Dynamic Transitions
Aaron M. Johnson and D. E. Koditschek
Dynamic Walking, June, 2013. Abstract PDF
Toward a Vocabulary of Legged Leaping
Aaron M. Johnson and D. E. Koditschek
Proceedings of the 2013 IEEE Intl. Conference on Robotics and Automation, May, 2013. Full PDF

Standing Self-Manipulation for a Legged Robot
Aaron M. Johnson, G. C. Haynes, and D. E. Koditschek
Proceedings of the 2012 IEEE/RSJ Intl. Conference on Intelligent Robots and Systems, Full PDF