ConFluence 96 Guest of Honor:
Michael Swanwick
Michael Swanwick's third novel, Stations of the Tide, was honored with a Nebula Award for best novel of 1991 by the Science Fiction and Fantasy Writers of America. It was also a nominee for the Hugo Award, as was his novella, The Griffon's Egg, and was nominated for the Arthur C. Clarke Award in Britain. His first two published stories, The Feast of Saint Janis and Ginungagap were both Nebula Award finalists in 1980. Mummer Kiss was a Nebula Award finalist for 1981 and was voted best science fiction novelet of the year in the Science Fiction Chronicle poll. The Man Who Met Picasso was a finalist for the World Fantasy Award in 1982.
Two Stories that appeared in 1984 were Nebula Award finalists -- Trojan Horse, and Marrow Death, which was an excerpt from his first novel. Two stories in 1985 were Nebula Award finalists: The Gods of Mars, co-written with Gardner Dozois and Jack Dann, and Dogfight, co-written with William Gibson (also nominated for a Hugo Award). A Midwinter's Tale won the Issac Asimov's Science Fiction Magazine 1988 Readers' Award. The Edge of the World was awarded the Theodore Sturgeon Memorial Award in 1989 for best short story, by the Center for the Study of Science Fiction at the University of Kansas. It was also nominated for both the Hugo Award and the World Fantasy Award. The Changeling's Tale was nominated for the World Fantasy Award in 1995, and Walking Out is currently on the Hugo ballot.
His stories have appeared in Omni, Penthouse, Amazing, Isaac Asimov's Science Fiction Magazine, High Times, New Dimensions, Universe, FullSpectrum, Triquarterly, and elsewhere. Many have been reprinted in Best of the Year anthologies, and translated for Japanese, Dutch, German, Spanish, and French publications.
In the Drift, his first novel, was published by Ace Books in 1985. Vacuum Flowers was serialized in Isaac Asimov's Science Fiction Magazine, and published by Arbor House in 1987. It was a main selection of the Science Fiction Book Club. The paperback appeared from Ace books in 1988. Translations have appeared in France, the Netherlands, Germany, and Italy. Stations of the Tide was also serialized in Isaac Asimov's Science Fiction Magazine, and was published by William Morrow and Company in 1991. A novella, Griffin's Egg, was published in hardcover format in England by Lengend and by St. Martin's Press. A short story collection, Gravity's Angels, appeared in 1991 from Arkham House. The Iron Dragon's Daughter, his first novel-length fantasy, was published in 1992 by AvoNova. His next novel, Jack Faust, is forthcoming from Avon in 1997.
He lives in Philadelphia with his wife, Marianne Porter, and their son, Sean.
Click here for a bibliography of his works.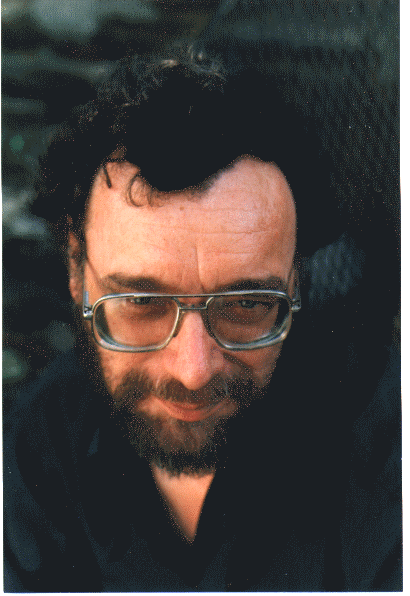 Photo by M. C. Porter.
Return to Confluence.