March 2, 2007 — The Progressive Student Alliance supports Pittsburgh Organizing Group's (POG) barricade of the National Robotics Engineering Center (NREC) that took place on March 2nd.  NREC is an operating unit of the Robotics Institute that develops robotic vehicles and weapons delivery systems for the U.S. Army and Marines.  As people of conscience we can not stand by the highjacking of our creative energies for such ignoble ends.  If you are interesting joining the PSA in challenging CMU's war machine please contact us.


New! — The Progressive Student Alliance is now an affiliate of Students for a Democratic Society (SDS).

April 7-9, 2006 — The Progressive Student Alliance partnered with Pittsburgh Organizing Group to host a regional Counter-Recruitment Conference at CMU. Click here for a report.
Who We Are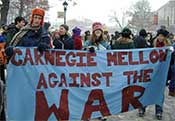 The Progressive Student Alliance works to ensure a healthy atmosphere of progressive politics on Carnegie Mellon's campus. We are one of the campus's oldest remaining political organizations. Our work includes uniting progresive students and enabling them to maximize their effectivness as activists.
PSA has no affiliation with any specific political ideology. We have had members who self-identify as liberal Democrats, Greens, Socialists, Anarchists, all-around Leftists, and everyone inbetween.
PSA prides itself in helping to unite and stregthen the progressive atmosphere at Carnegie Mellon. We were instrumental in coordinating applications for a progressive office, and are pleased to announced that starting with the 2004-2005 school year, progressive students on this campus finally have an office. It is is located in the University Center, room 318E. We invite all students to stop by and visit us if someone is in the office; contact PSA to see about getting involved and potentially getting a key.
PSA maintains resources for all progressive students to utilize. Beyond the office, we own materials needed for painting the fence, as well as a megaphone and other equipment useful for rallies or demonstration. We maintain a very large mailing list, and forward on digests highlighting important events coming up that involve the campus community.
We seek to help students promote intelligent debate and political awareness on campus, focusing on the current local, national, and international issues that our members choose to work on. We also work in solidarity with other organized groups in Pittsburgh.
If you are a progressive student and are looking for information about the ongoing political campaigns on campus, are looking to start a progressive political campaign, or have any questions or suggestions, please Contact the PSA. We look forward to seeing you on campus and in the streets!