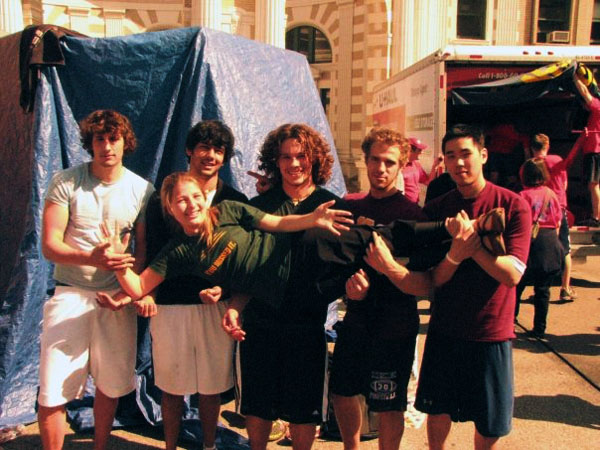 Every year at CMU, Spring Carnival brings out the best in Fraternity competition. Buggy at Carnegie Mellon began in 1920 with the first spring weekend. But it was not until 1926, the year after we received our charter, that Phi Kap entered its first winner. Since that time buggy has been one of the proudest traditions at Phi Kap and we've nearly always been able to put together a winning effort.
The last few decades have shown few exceptions in this proud tradition. In the years between 1953 and 1960 Phi Kap all but dominated the design competition, winning first every year except in 1959 when we took second. This dominance was due mainly to one of the best buggies built at Phi Kap, a buggy known as "77."
In 1963, another buggy was built in the same winning tradition. This was Snorpus, built by Paul Huzyak. In its first year it won second in design. The following year another new buggy was added- Shamrock, built by Tony Demark. Shamrock was equally successful, winning second in design(Snorpus was third) and third in sweepstakes, thus becoming the only buggy in sweepstakes history to place in both events her maiden year. Both these buggies have brought many new innovations to buggy racing, such as uni-body construction, independent torsion bar suspension, and simplicity in design.
The following years proved these buggies consistent winners. In 1966 they placed second and third in design and third and sixth in sweepstakes. In 1967 they did even better, taking second and third in design and third and fourth in sweepstakes. In 1969 they moved even further up with snorpus taking second in both design and sweepstakes.
But through the years we've also had our disasters. One of the most interesting is centered around a buggy named Salamander, usually referred to as Murphy's buggy. This buggy was designed with one thought in mind: lightness. Every conceivable method of conserving weight was employed. Aluminum nuts and bolts were used instead of steel and even they were filed down to the bare minimum. On race day it was by far the lightest buggy on the course and set out to break the course record. With most of the course behind it in record time, Salamander reached hill five in two minutes flat. But at that point one of the aluminum bolts failed and for the remaining forty-seven seconds Salamander crawled to the finish line, leaving a trail of parts behind.
In 1969 disaster struck the house again one Sunday morning at freeroll practice. The buggy was known as Gray Ghost and was built by Ray LeClair and Tom Kilgore. This particular morning a bolt sheared, sending the driver Bob Arias into the curb at the frew street turn. Bob ended up with severe head cuts and eighteen stitches in his forehead. But by studying errors in Gray Ghost's construction, a new buggy called Streak had been built by Mike Drosjack.
In 1970, Streak made an impressive debut in the race, but a break failure disqualified Streak from winning a trophy. In 1971 a technical problem resulted in a disappointing sixth place finish, but Streak still took first place in the design competition with Snorpus taking third. Through the superhuman efforts of John Kilgore and Gary Shushnar, Streak finally realized her full potential in 1972. Phi Kap rolled her to a clear cut victory in Friday's preliminaries, edging out the former champions, Pi Kappa Alpha, but rain forced the cancellation of the finals on Saturday. These results caused great arguments with the losing Pikas and Betas, only to be resolved by a stunning victory in 1973, when after two thrilling days, Streak left the competition in the dust. Much credit for this accomplishment goes to buggy chairman Don Marburger and Evan Hutchison, who also drove Streak for four years. Phi Kap, in proving its victory in 1972, became firmly entrenched as the top buggy house on campus. In design Streak and Snorpus took second and third respectively in 1972 and then swept the top two places in 1973- a feat unprecedented in buggy history.
Once again, in 1974, Streak took second in race and first in design with Snorpus third in design. In 1975 Streak won first in design and probably would have won sweepstakes too, but, for a controversial judges decision after a collision with Pika, Streak was disqualified. In 1976 Streak and Snorpus were again entered with Streak winning third in design and fourth in sweepstakes. In 1977 a new project was undertaken by Erwin Goedicke to construct a new light-weight buggy. However, due to a late start on the actual construction, the new buggy, Satori, failed to place in either design or sweepstakes.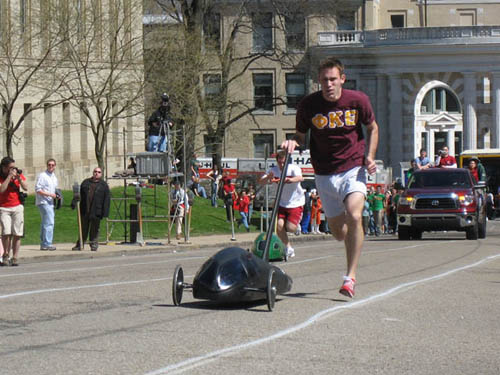 In 1978 Shadow took sixth place in race, but failed to place in design. In 1979 we unveiled a new buggy, Salamander. It was unconventional in that it sported a double push bar, and was constructed in a radically different fashion from any other buggy. Unfortunately, we had not mastered the new technology by race day and the best we could muster was eleventh place. Because of the secrecy involved in construction methods, we chose not to enter Salamander in design. We entered Shadow in its place and took fourth place.
In 1980 Shadow placed in the top six in design and finished seventh in Sweepstakes, having received an extra roll on the second day of race after having been cut off by Sigma Nu on the first day. In 1981 however, we were not as fortunate. Rain cancelled races for the weekend of Carnival and forced a week's postponement for the first time. The week delay proved costly as Streak, running A-team, lost control and spun out in the chute. Shadow and our newest buggy, White Trash, did roll well, however, and Shadow once again placed in the top six for design.
The year of 1982-1983 started a new era in Phi Kap buggy history with the emergence of Stilleto, built by Kurt Larson and a variety of henchmen. Stilleto was a ultra light buggy with a radical design of three wheels, two in the front and only one in the back. This buggy had been in the planning stage for close to a year and a half, truly one of the most exhaustive research projects taken on by any organization competing in the buggy race. Stilleto placed tenth which was not bad considering that the previous course record was broken twice that day. It missed the house record of 2:22:00 by 1.2 seconds. The new course record was set by Pi Kappa Alpha at 2:09:00. In 1984, Silouette, an improved version of Stilleto, was on its way to breaking the house record when it spun out in the chute.
In 1985, Edward Rhoads built a very lightweight buggy, Gumby, but crashed into the haybales in the chute. Gumby did not roll on race day. Silhouette finished 11th and Stilleto finished in the top half. In 1986, the alumni came in second. Wesley Doonan built a new buggy called Duke with 1 wheel in front and two in back which placed in the top three but failed to make top half on race day.
In 1987, Dave Howe improved on Duke's design and built a new, even lighter buggy called Tempest. Tempest placed sixth in design but again failed to make top half on race day.
In recent buggy history, Schadenfreude -- first raced in 1994 -- finished second overall with a time of 2:12:95 the first day and 2:13:44 the second. Schadenfreude's fastest time was 2:11:67 set in 1995. Celerity, a buggy similar to Schadenfreude but smaller in size, first raced in 1998, finishing third overall with a time of 2:11:60 the first day and 2:12:50 the second. Celerity's time of 2:11:60 is the current house record. The most recently built buggy, Svengali first raced in 2004, finishing eighth overall with a time of 2:22:62 on the second day after a reroll.
At Carnival '06, Schadenfreude rolled A team and Svengali rolled B team. Both buggies completed the course rolling their fastest times all year by far. Schadenfreude posted a 2:19:00 and missed top ten by 11 hundredths of a second.
| | | | | | | | |
| --- | --- | --- | --- | --- | --- | --- | --- |
| Year | Team | Buggy | Prelim Place | Prelim Time | Final Place | Final Time | Comments |
| 2008 | A | Svengali | 14th | 2:24.40 | | | DQ - 5 second rule |
| 2007 | A | Svengali | 10th | 2:22.85 | 10th | 2:22.04 | |
| 2006 | A | Schadenfreude | 11th | 2:19.00 | | | rained out, Friday's times official |
| | B | Svengali | 18th | 2:26.84 | | | |
| 2005 | A | Svengali | 12th | 2:26.09 | | | |
| 2004 | A | Svengali | | | 8th | 2:22.62 | Reroll + 1st Place T-shirt! |
| | B | Schadenfreude | 17th | 2:26.30 | | | |
| | C | Celerity | 19th | 2:31.59 | | | |
| 2003 | A | Schadenfreude | | | 14th | 2:23.01 | Chairman's Choice Award |
| 2002 | A | Schadenfreude | | | 12th | 2:20.73 | DQ - 5 Second Rule |
| | B | Secretariat | | | 21st | 2:31.46 | |
| 2001 | A | Celerity | rain | | did not finish | | 3 buggies entered the chute together, we didn't make it out... |
| | B | Secretariat | 16th | 2:25.30 | did not finish | | |
| 2000 | A | Celerity | 8th | DQ | | | failed drop test |
| 1999 | A | Celerity | rain | | did not finish | 2:14.?? | DNF - Hill 2 Spin on Re-Roll |
| | B | Schadenfreude | 6th | | 9th | 2:27.03 | |
| | C | Secretariat | did not finish | | did not finish | | |
| | D | Centennial | | DQ | | | DQ - Wheelcover? |
| 1998 | A | Celerity | 3rd | 2:11.60 | 3rd | 2:12.50 | New House Record and 1st Place Design |
| | B | Schadenfreude | 9th | 2:19.70 | | 2:21.00 | |
| | C | Secretariat | | 2:27.00 | | | |
| 1997 | A | Schadenfreude | 4th | 2:14.48 | | | rained out, Friday's times official |
| | B | Secretariat | 14th | 2:25.2 | | | |
| | C | Centennial | 32nd | 2:29.21 | | | DQ - Lost wheel cover |
| 1996 | A | Schadenfreude | 2nd | 2:13.30 | 3rd | 2:13.39 | |
| | B | Secretariat | 8th | 2:18.10 | | DQ | time was good enough for 6th place |
| 1995 | A | Schadenfreude | 8th | 2:14.78 | 5th | 2:11.67 | |
| | B | Secretariat | 24th | 2:31.33 | | | |
| 1994 | A | Schadenfreude | 3rd | 2:12.95 | 2nd | 2:13.44 | hit by Spirit Women's B team during women's heat |
| | B | Secretariat | 4th | 2:14.77 | DQ | | scratched to prep A buggy which was damaged in an earlier accident |
| | C | Centennial | 17th | 2:26.8 | | | |
| 1993 | A | Secretariat | | | 4th | 2:14.19 | |
| | B | | | | 10th | | |
| 1992 | A | Secretariat | 3rd | 2:11.63 | 5th | 2:15.10 | new house record(prelim time) |
| | B | | 18th | 2:23.5 | | | |
| 1991 | C | | | | 43rd | 2:42.1 | ? |
| | D | | | | 46th | 2:47.1 | ? |
| 1990 | A | | | | 13th | 2:19.9 | ? |
| | C | | | | 28th | 2:36.9 | ? |
| | D | | | | 29th | 2:37.0 | ? |
| 1989 | B | | | | 13th | 2:20.8 | ? |
| | C | | | | 30th | 2:34.9 | ? |
| | D | | | | 38th | 2:46.1 | ? |
| 1988 | A | | | | 26th | 2:26.7 | ? |
| | B | | | | 42nd | 2:42.1 | ? |
| | C | | | | 45th | 2:44.5 | ? |
| | D | | | | 43rd | 2:42.7 | ? |
| 1987 | A | | | | 24th | 2:29.7 | ? |
| | B | | | | 26th | 2:33.4 | ? |
| | C | | | | 32nd | 2:50.9 | ? |
| 1986 | A | | | | 17th | 2:24.1 | ? |
| | B | | | | 32nd | 2:48.0 | ? |
| 1985 | A | Silouette | | | 11th | 2:20.0 | ? |
| | B | Stilleto | | | 22nd | 2:33.0 | ? |
| | C | Gumby | | | | | crashed in the chute |
| 1984 | A | Silouette | | | | | spun out in the chute |
| 1983 | A | Stilleto | | 2:23.2 | 10th | | |
| | B | | | DQ BK | | | |
| 1982 | A | | | 2:30.0 | | | |
| | C | | | 2:32.3 | | | |
| 1981 | A | Streak | | | | | spun out in the chute |
| | B | Shadow | | | | | 6th Place Design |
| | C | White Trash | | | | | |
| 1980 | A | Shadow | | DNF reroll | 7th | 2:30.6 | 6th Place Design |
| | B | | | 2:39.0 | | | |
| | C | | | 2:40.4 | | | |
| 1979 | A | Shadow | | | | | 4th Place Design |
| | B | Salamander | | | 11th | | |
| 1978 | A | | | 2:45.2 | | | |
| | B | Shadow | | 2:25.6 | 6th | 2:26.9 | |
| 1977 | A | Satori | | | | | |
| 1976 | A | Streak | | 2:28.1 | 4th | 2:26.5 | 3rd Place Design |
| | B | Snorpus | | | | | |
| 1975 | A | Streak | | | | | DQ, but 1st Place Design |
| 1974 | A | Streak | | 2:23.7 | 2nd | 2:22.0 | 1st Place Design |
| | B | Snorpus | | | | | 3rd Place Design |
| 1973 | A | Streak | | 2:25.4 | 1st | 2:23.3 | 1st Place Design |
| | B | Snorpus | | | | | 2nd Place Design |
| 1972 | A | Streak | 1st | | | | rained out, Friday's times official. 2nd Place Design |
| | B | Snorpus | | | | | 3rd Place Design |
| 1971 | A | Streak | | 2:32.4 | 6th | | 1st Place Design |
| | B | Snorpus | | 2:44.6 | | | 3rd Place Design |
| 1970 | A | Streak | | | | | DQ - Break failure |
| | B | Snorpus | | | | | |
| 1969 | A | Grey Ghost/Snorpus | | 2:25.5 | 2nd | 2:26.2 | 2nd Place Design |
| | B | Shamrock | | 2:36.3 | | 2:44.6 | |
| 1968 | A | Snorpus | | | | | |
| | B | Shamrock | | | | | |
| 1967 | A | Shamrock | | | | | |
| | B | Snorpus | | | | | |