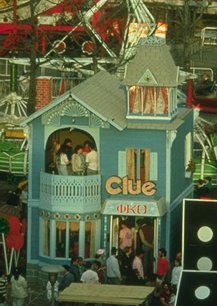 Booth is one of the main events of Carnegie Mellon's Spring Carnival. Phi Kappa Theta prides itself on a history of success in the event. Every April, Greek and student organizations compete at building structures that elaborate on the theme of that year's Carnival. Each booth is unique and is an opportunity for the organizations to represent themselves to the Carnegie Mellon and Pittsburgh community.
Phi Kappa Theta continually produces amazing booths and has enjoyed great success over the years. Booth provides an enjoyable experience for every member of the house. The competition allows Phi Kaps to show the diversity of its members by having each one contribute his strengths toward the booth's completion. This is seen in the amazing attention to detail, the design, and the overall quality of each booth produced year after year.
Spring Carnival booth trophies have not come as often as buggy trophies. Until 1988, Phi Kap had only won three: one in 1960 for a booth called "Sadie Hawkins Race," one in 1962 for a booth based on the theme "Midnight in Moscow," and one in 1979.
In 1974, Jay Stimmel and Geoff Byran constructed a booth that could easily be reconstructed from year to year and it served loyally as a money maker but failed in competition. In 1977, however, "The Whitehouse," built by Dave Mittereder under Colin McKechnie's direction, provided a substantial profit and was Phi Kap's strongest attempt at a booth trophy since 1962. Due to some electrical failures, the booth missed a trophy in the final competition by 3 points. In the past, our booths pleased paying customers more than the judges. In 1979 our booth "Saudi Arabia" built under the direction of Colin and Brad Linden won third place.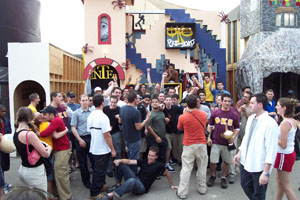 In 1987 we decided to drop the old booth and go for a trophy. The booth was Tokyo, designed by Eric Jacobs and Steve Kravchin. This was our first booth effort in years and we placed fifth. In 1988 Mike Gersh and Scott Harger did an incredible job of motivating the house and building the finest booth ever. The booth was called "Phi Kaps of Arabia" and placed second overall, the highest we placed in over thirty years. In 1989, Daryl Thomas and Pete Pezaris lead the house in continuing the new tradition, finishing second to DTD by a single point with the two-story booth "Clue."
In 2002, Phi Kappa Theta was going through some difficulties building booth because we did not have a house on the fraternity quad that year. However, the booth chairs pulled together some plans 10 days before Carnival and work began immediately. Brothers sacrificed much to pull time out of their hectic schedules and work on what might be difficult to finish. "M.C. Escher," popularly known among PhiKaps as The Ten Day Booth, grew out scraps of wood and snagged the second place trophy.
| | | | | | |
| --- | --- | --- | --- | --- | --- |
| Year | Booth | Carnival Theme | Chair(s) | Place | Photos |
| 2008 | Chocolate Factory | Extra Extra, Read All about It | Luis Castellanos/Elliot Cha/Mika Cha | 4th | |
| 2007 | Cuckoo Clock | Small Things Made Large | Ray Obico/Jeffry Goldberg | 3rd | 1, 2 |
| 2006 | Area 51 | Another Time and Place | Emil Kiner/Jeremy Machi | 3rd | 1, 2 |
| 2005 | How Fear Works | How Things Work | Kurt Giessler | 5th | 1, 2 |
| 2004 | Magic Kingdom | To Be A Kid Again | Matt Filipone/Jeff Kalinoski | 2nd | 1, 2 |
| 2003 | Ancient Greece | The Past Comes Alive | Danny Ghesquire/Dante Romanini | 5th | 1, 2 |
| 2002 | M.C. Escher | Inside Out | Dante Romanini | 2nd | 1, 2 |
| 2001 | Mr Roger's Neighborhood | Small Things Made Large | Brent Buck / Barry Langer | 3rd | 1, 2 |
| 2000 | Wild West | Places Around the World | Matt Malter-Cohen | 1st | 1, 2 |
| 1999 | Wizard of Oz | Children's Books | Merritt Gile/Jonathan Beerhalter | 2nd | 1, 2 |
| 1998 | Leonardo's Workshop | Myths and Legends | Metthew Lee | 3rd | 1, 2 |
| 1997 | Sherlock Holmes | TV Shows | Pat Toole | 1st | 1, 2 |
| 1996 | Return of the Jedi | Board Games | Danny Ting/Evren Damar | 2nd | |
| 1995 | The Addams Family | Comic Strips | Greg Mumpower | 1st | 1, 2 |
| 1994 | Norwegian Stave Church | Structures of the World? | Jason Bareford/Hughes Steinier | 1st | 1, 2 |
| 1993 | Mann's Chinese Theater | The Silver Screen | Kurt White/John Ferris | 1st | 1, 2 |
| 1992 | Tower of Babel | Myths and Legends | Craig Robinson | 1st | 1 |
| 1991 | Shogun | Literary Themes | Don Good/Michael Mo | 1st | 1, 2 |
| 1990 | Sutter's Mill | A Place in Time | Andy Rosenbaum | 1st | 1, 2 |
| 1989 | Clue | Toyland | Daryl Thomas/Peter Pezaris | 2nd | 1, 2 |
| 1988 | Phi Kaps of Arabia | Fairy Tales | Scott Harger/Mike Gersh | 2nd | 1, 2 |
| 1987 | Tokyo | Around the World | Eric Jacobs/Steve Kravchin | 5th | |
| 1986 | The Box from the Twilight Zone | Hollywood | | | |
| 1985 | The Box from the Far Side | Animation | | | |
| 1984 | Booth from the Past | Adventure | | | |
| 1983 | Lost in Space | Some Like It Rough | | | |
| 1982 | Bait and Tackle Shop | Lure of the Sea | | | |
| 1981 | Sutter's Mill | Wild Wild West | | | |
| 1980 | Circle Line | New York City | | | |
| 1979 | Saudi Arabia | Countries | Brad Linden/Colin McKechnie | 3rd | |
| 1978 | Myths and Legends | Myths and Legends | | | |
| 1977 | The Whitehouse | | | | |
| 1976 | Atlantic City Boardwalk | | | | |
| 1975 | Pinball | | | | |
| 1974 | Casino Royal | | | | |
| 1973 | This Booth Takes Up Space | | | | |
| 1972 | Bartholomew's Hat Factory | | | | |
| 1971 | The Matterhorn | | | | |
| 1970 | Laugh In | | | | |