NEWS
<![if !supportLists]>· <![endif]>October 2023: New Paper on Smartphones in Classrooms
My new paper on the effect of smartphones in the classroom features an RCT in a school in China, whereby students were randomized into several experimental conditions: smartphones banned from the classroom, smartphones allowed into the classroom, smartphones allowed into the classroom and used to assist with instruction. We found that students' performance decreased in the first condition and increased in the last condition compared to when the devices were not allowed into the classroom. We show that these results arise from how students allocate time to distraction and learning, on and off the smartphone. [paper draft version]
<![if !supportLists]>· <![endif]>June 2023: Promotion to Full Professor
I am pleased to announce that I have been promoted to Full Professor at Carnegie Mellon University. I look forward to the next steps and future academic challenges!
<![if !supportLists]>· <![endif]>May 2023: Seminars and Presentations
I presented my paper combining movie recommendations from industry experts and machine learning algorithms at the MAD Conference at Columbia Business School and the Marshall Business School, University of Southern California. This paper is ongoing joint work with Zekai Fan and Miguel G. Matos. We show that one can combine recommendations from machines and industry experts to improve matching.
I have also visited the Graduate School of Business at Stanford University, where I presented my paper with Miguel G. Matos on the surprising effects of binge-watching on the likelihood that consumers subscribe to video on demand.
<![if !supportLists]>· <![endif]>April 2023: AIS Research Productivity Ranking in Major IS Journals
I have been ranked 17th worldwide in weighted-adjusted research productivity for papers published in Information System Research and in Management of Information Systems Quarterly (two top research journals in the field) in the 2020-2022 window.
<![if !vml]>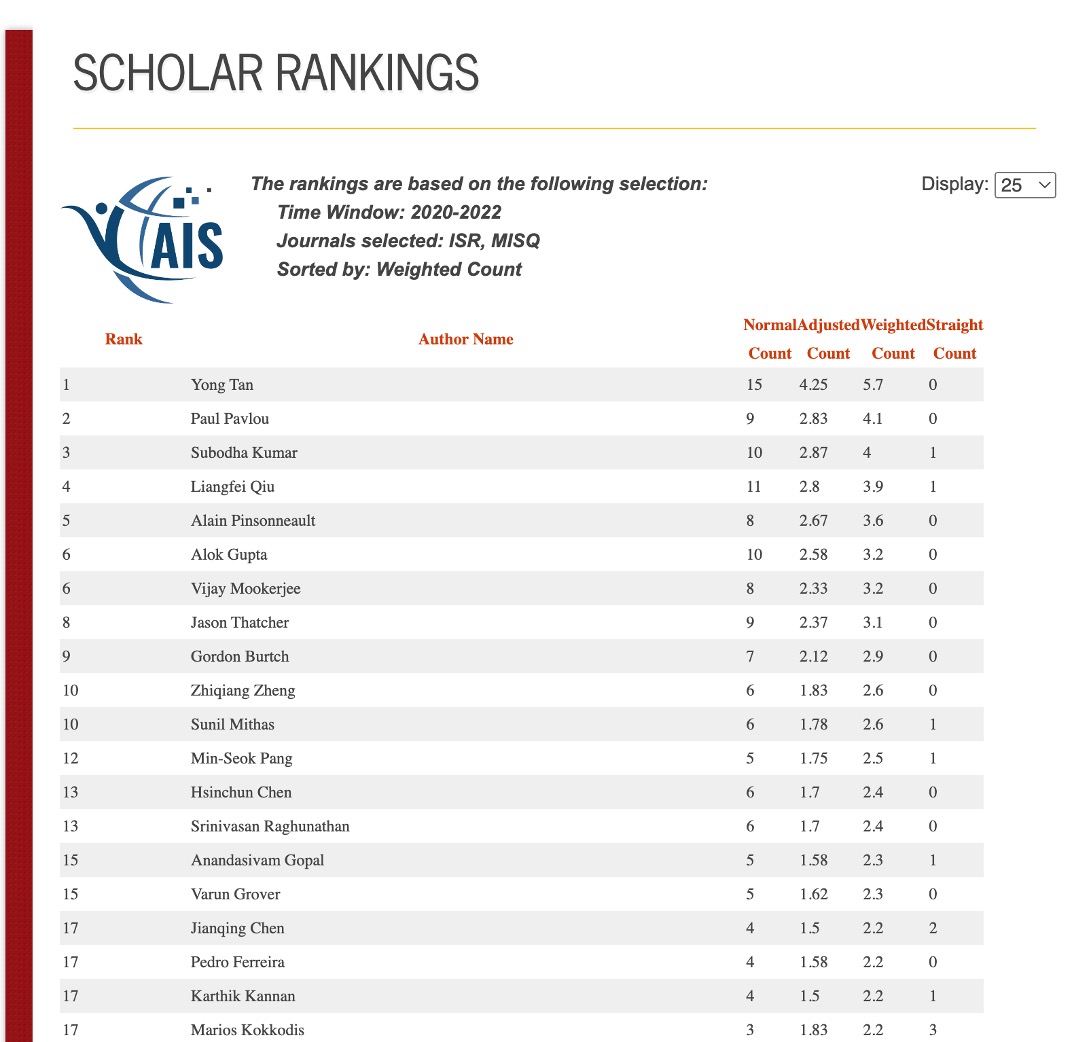 <![endif]>
<![if !supportLists]>· <![endif]>March 2023: 2023 US News Rankings for Carnegie Mellon University
Undergraduate degree in Information Systems Management: #1
Undergraduate Degree in Data Analytics: #2
Master in information technology management: #1
MBA Specialization in Information Systems Management: #2
MBA Specialization in Data Analytics: #2
<![if !supportLists]>· <![endif]>February 2023: Paper on Citizens Journalism Accepted at Management Science
My paper co-authored with Tom Grad, Ananya Sen and Jorg Claussen entitled "(How) Does User Generated Content Impact Content Generated by Professionals? Evidence from Local News" has been accepted for publication at Management Science. Stay tuned for our pre-print draft.