Leonardo Balada:Torquemada and Other Works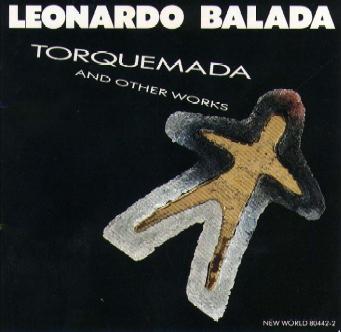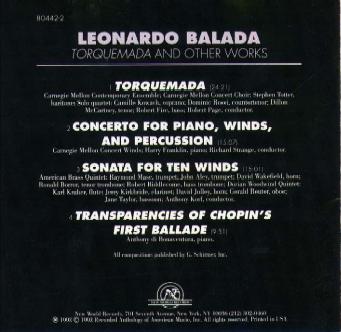 TORQUEMADA
The text sung by Torquemada is taken from General Instructions. The rest is by the composer, based on essays and historic documents.
CHORUS:
Hic est reverendus Tomas de Torrecremata, prior Sanctae crucis Inquisitor Generalis.
CHORUS‑XX CENTURY:
Ay! Fuego al fuego; fire to the fire; foc al foc. Fire to the fire; the flame which burns. Tomas of Torquemada; who burns, who kills; fire to the fire of your justice. of fanaticism. of the crack of innocent bones, of the burning of sad violated flesh; fire to the fire which devours dignity and the principle of being~ Friar Tomas of Torquemada. Grand Inquisitor, torturer, seed of Tyrannies, Sputum of Humanity, hypocrite to Christ and betrayer of His teaching.
CHORUS Soli-XV CENTURY:
In the name of God. President of the Holy Church of Rome, his Holiness Innocent the Eighth and the Rulers, of Castile and Aragon, the most High and Powerful Prince and Princess Don Fernando. Doņa Isabel, most Christian King and Queen in Seville on the 29th day of November in the Year of Our Lord and Saviour Jesus Christ 1484.
TORQUEMADA:
The Inquisitors shall announce a period of grave so that all those people who arc guilty of any sin or heresy or apostasy, of following the Jewish rites or others contrary to the Christian religion, shall come and confess their errors, assuring all those who come in contrition am] repentance shall be received charitably.
CHORUS Soli:
Holy and Just Inquisition.
TORQUEMADA:
And they shall be given penance beneficial to their souls.
CHORUS Soli:
Just and Holy Inquisition.
TORQUEMADA: they shall not be sentenced to death nor to life imprisonment and nor shall their goods be taken but shall lie given lighter sentences.
CHORUS Tutti-XX CENTURY:
Ay! Merciful is the word of Christ and the forgiveness that his voice brings, but you, with pride you would draw justice from torment, impose your Faith with punishment and you break the laws of Christianity, scaling the destiny of these lands with prejudice of race and hate and envy between father and on. Seņor Torquemada! Our graves and our mernories tremble at the mention of your name. Who kills... who beats... who sins... prays... kills....
TORQUEMADA-XV CENTURY:
If it should be determined that some people who are guilty of the crime of heresy do not confess within the period of grace but before they are caught, their goods shall be confiscated and, should the case demand it. they can be sentenced to life imprisonment.
CHORUS Sofi:
Holy, Just Inquisition, that sacrifice, sorrow and fire shall raise tile soul to eternal delight and save it from eternal suffering.
CHORUS Tutti-XX CENTURY:
Torquemada, who takes beats... kills... takes... and burns... and decrees prejudice extermination expulsion of the Jews from the lands and homes into exile.
TORQUEMADA-XV CENTURY:
If the children of heretics have fallen into sin by the teaching of their fathers, the Inquisitors shall receive them with lighter penances than their elders.
CHORUS-XX CENTURY:
Those ignorant people... fratricide... social misery is the residue of your existence.
TORQUEMADA-XV CENTURY:
If the criminal accused of heresy be caught, confesses his sins, he shall receive life sentence.
CHORUS Soli:
Fear
CHORUS Tutti-XX Century:
Centuries of hypocrisy!
TORQUEMADA and CHORUS Soli-XV CENTURY:
And punishment removes everyone from sin.
CHORUS Tutti-XX CENTURY:
No freedom... opinions....
TORQUEMADA-XV CENTURY:
If the conversion seems pretended,
CHORUS-XX CENTURY:
Divided lands... persecute beliefs,
TORQUEMADA-XV CENTURY:
... they must give the death sentence. Holy and Just Inquisition, that saves the soul, Just and Holy Inquisition