From a Hazleton newspaper dated April 12, 1951:

Beth Sholom Aux. Reading Tonight



A large attendance is expected at the reading which will be given tonight at 8:15 o'clock in the Rialto Theatre, South street, by Elizabeth Conrad, of Scranton. The event is being sponsored by the members of the Ladies Auxiliary of Beth Sholom congregation. Proceeds from the reading will be used by the auxiliary in renovating the vestry rooms of the congregation's recently purchased temple on Front street. This is the first affair sponsored by the auxiliary, and officers report that many tickets have been sold. There will be a large delegation of Hazleton people here for the reading.

Miss Conrad is well known in Freeland and Hazleton, having appeared in the two communities several times in recent years. Her reading tonight will be on Anya Seton's book, "Foxfire," which deals with the adventures of a man seeking gold, and what he endures in his search. Tickets may be purchased today at Max Besbris' store, Nassan's men's shop, or Hyman Kline's, or at the door tonight.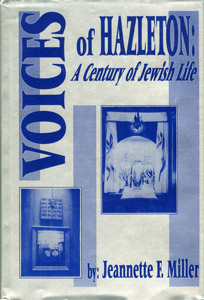 According to Jeannette F. Miller's book,

Voices of Hazleton: A Century of Jewish Life

(Hazleton, 1993), in 1910 most of Freeland's Jewish families lived on or near Centre Street, and many of them had relatives in nearby Hazleton. At first, Jewish families in Freeland rented a room in the Knights of Columbus building for Rosh Hashana and Yom Kippur services. By the 1930s, the community was large enough to warrant leasing the room for year-round use. A Torah was kept there, and the space was also used socially, e.g., for Wednesday night card playing.

Boys were taught Hebrew by an itinerant teacher; several parents arranged to bring in the daughter of Hazleton's Rebbe Rockoff once a week to tutor their daughters and a few of their sons.

One of Freeland's Jewish families was headed by Philip Abrams, who settled in Freeland on his own and then in 1921 was joined by his wife and children. Around 1950 he organized seventeen families to purchase the former Calvary Full Gospel Church building on Front Street, across the street from the Public Park, as the home of what would be called the Beth Sholom Congregation. The new synagogue was dedicated on December 2, 1951, and Miller relates how in the dedication booklet "they relate with joy how they were inspired by the dream of the first Jewish settlers, 'the dream of having their own house of worship - a shul which would stand long after they were gone and would be used by their children and their children's children.'"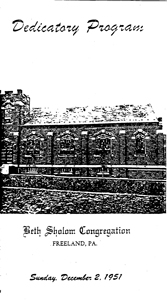 Beth Sholom Dedication booklet, scanned and provided through the courtesy of Ann Abrams Morrison - clicking the link downloads a copy of the booklet to your computer (it doesn't open right up in the browser window - find it in your downloads). (PDF file size = 3.2 MB)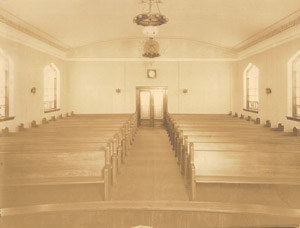 The photo at right comes to us courtesy of John Grayson Jones, whose father was pastor of the Calvary Full Gospel Church, the building that was later to house the Beth Sholom Congregation. Although the Congregation renovated the interior before moving in, this photo shows the general look of the interior when they first took possession.

The congregation was Orthodox, and their Rosh Hashana and Yom Kippur services were conducted for 25 years by Maurice Levan of Hazleton. He would stay at the Abrams home on those occasions, and the group would break their fast together in the vestry rooms when the shofar sounded at the end of the Yom Kippur fast. Friday night services were conducted by the members themselves, and while Shabbat morning services were not conducted regularly, a minyan would be brought together when prayers for the deceased were needed.

Although Beth Sholom did have a Junior Congregation, it had no Hebrew School, its members carpooling to take their children to the shul in Hazleton as needed. The dedication booklet mentioned above names children of the community: Edward, Jere, Ann, Richard, Dianne, Roxanne Abrams; Jamie Ackerman; Susan and Marc Hurwitz; Joanne Kahn; Gerrie Kimmelman; Lynn and Harold Refowich; Grace Skop. By the time 15 years had passed from this dedication, most of the Jewish population had moved away and Beth Sholom closed. The building was sold to the Hazleton Area Public Library in 1966 for a Freeland branch library, for which it is still used today. The Torah was given to a New Jersey synagogue, and the bronze memorial tablet and theater seats were given to Agudas Israel Congregation in Hazleton.

Miller's book lists the officers and members of the Beth Sholom Congregation as follows:
Philip Abrams, president; Louis Nassan, vice-president; Joseph Kimmelman, treasurer; and Roselyn Franklin, secretary. Other member families were those of Irving Abrams, Simon Abrams, Dr. Abe Ackerman, Max Besbris, Leon Franklin, Simon Franklin, Leonard Hurwitz, Stewart Kahn, Samuel Kimmelman, Morris Levine, Hyman Kline, Abe Refowich, Irving Refowich, and Louis Skop. (Miller, p. 88-91, 254)

Finally, an article in the Jewish Daily Bulletin that I found online, dated September 21, 1927, shows that Freeland's congregation was active in regional efforts long before the purchase of the building and creation of the Beth Sholom Congregation:

Penna. Communities Take Quota of $21,500 for U. P. A.



Philadelphia, Pa., Sept. 20 - The first regional conference of the United Palestine Appeal of the Jewish communities in the western region of Pennsylvania was held on Sunday, at the Jewish Community Center in Shenandoah, Pa. Representatives from fourteen cities, including Shenandoah, Mahanoy City, Tamaqua, Hazleton, Freeland, Frackville, Pottsville, Ashland, Centralia, Minersville, Mt. Carmel, Shamokin, Danville and Berwick, were present.
Dates for campaigns were set. Quotas totaling $21,500 were adopted by the Quota Committee, headed by Philip Levin of Shenandoah, Pa., and accepted by the conference.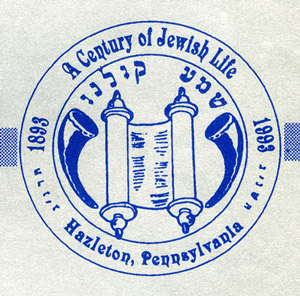 P.S.
The photo at right shows the logo on the back cover of Miller's book. I'm not sure whether Freeland actually saw a century of Jewish life within its borders as Hazleton had when this book was published in 1993, but because our Jewish community had strong ties to that of Hazleton I thought that it would be ok to include this lovely design here.